Staff
Janice McAdams, Executive Director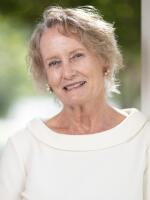 Janice McAdams joined Family House in June of 2013 from Trinity School of Durham and Chapel Hill, where she was Director of Advancement and Director of Community Advancement. At Family House, she continues her interest in building relationships with new and old friends, and is passionate about growing things: plants, buildings, and friendships.
Janice moved to Chapel Hill to complete graduate school at the University of North Carolina at Chapel Hill, earning a PhD in Curriculum and Instruction. She spent many fulfilling hours working on a variety of projects at Frank Porter Graham Child Development Center, University United Methodist Preschool, and the Public School Foundation. Janice loves reading and gardening. She has an open door policy, so if you come to Family House, please drop in for a visit!
Contact Janice McAdams by email at jmcadams@secufamilyhouse.org or by call or text at 919.810.4167.
Monique McKithen, Director of House Operations
Monique hails from New Jersey and earned her BA degree in Sociology from Shaw University, Raleigh, NC. She went on to complete her educator's license coursework at the Graduate School of Education at East Carolina University, Greenville, NC. Monique comes to SECU Family House after spending time in Education. Monique is a licensed educator who taught English in the high school setting. Monique spent six years directing an Emergency Housing shelter in Raleigh, NC, growing the program from a 30 unit congregate living situation to 70 individual apartments throughout Raleigh. Monique has Property Management experience at Westcliff Properties in Trenton, NJ where she managed a small garden complex.
Monique raised her three children in the Garner, NC area and now enjoys doting over her two grandchildren. Monique loves to travel in her spare time and considers herself a "Wanderer" having visited Johannesburg and Cape Town, South Africa, Mexico, The US Virgin Islands, the Dominican Republic and a host of other places. Monique is an avid reader, enjoys the arts, volunteers for various political/social causes, and loves spending quality time with her loved ones. Monique loves to do her "Heart's Work" and feels that she will be able to continue that dream at Family House.
You can reach Monique at 919-932-8019 or at monique@secufamilyhouse.org.
Martha Aldridge, Director of Development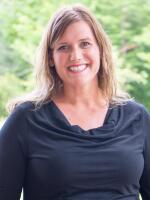 Martha joined Family House to lead the Development Office in 2017. She was born and raised in Chapel Hill and graduated magna cum laude from North Carolina State University. She spent the past ten years in wealth management as a financial advisor to individuals, families, and non-profits. Prior to that, Martha worked as a development director for a large non-profit in the Triangle. Martha lives in Chapel Hill with her husband and three children. In her free time, she enjoys running and baking.
You can reach Martha at martha@secufamilyhouse.org or 919.932.8003.
Claudette Whitted, House Manager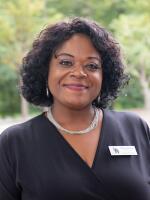 Claudette first came to Family House in May of 2016, after working with the Chapel Hill-Carrboro City Schools for more than 16 years. She has lived in Chapel Hill for 20 years and counting. Claudette earned an AAS in Early Childhood Education from Wake Technical Community College. She has two children, Devin and Mikayla, and in her free time likes to watch movies, spend time with family and friends, and meet new people.
Connect with Claudette at claudette@secufamilyhouse.org or 919.932.8008.
Georgie Clemens, Volunteer Services Manager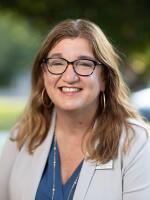 Georgie joined us in March 2020 as a Volunteer Services Manager. She grew up in New Braunfels, Texas and earned a Bachelor's in Sociology from UT-Austin, later completing a second Bachelor's in Education from Iowa State University. After working as a middle school teacher in California, she and her family moved to Chapel Hill where she served as Director of Youth Ministry at St. Thomas More Catholic Church for 20 years, working directly with teens and families. She then felt called to Family House to further her passion of working toward a greater good. Georgie and her husband Chris have five children and enjoy naps, movies, and Tar Heel sports!
Connect with Georgie at georgie@secufamilyhouse.org or 919.932.8009.
Amy Blackwelder, Assistant Director of Development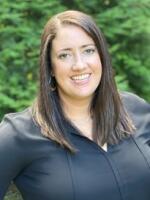 Amy joined us in October 2020 as Assistant Director of Development. She had spent nine years in various development roles with the American Heart Association in the Triangle, NC. Amy graduated from North Carolina State University with a Bachelor of Science in Statistics. She lives in Raleigh with her husband and two rescue dogs. Outside of work, Amy enjoys spending time outdoors, especially in the North Carolina mountains, visiting with family and friends, and supporting her favorite local sports teams.
You can reach Amy at amy@secufamilyhouse.org.
Kathy Yasui-Der, Guest Services Associate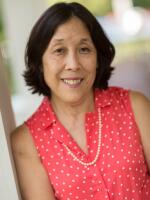 Before coming to Family House, Kathy was an elementary school teacher in California, Massachusetts and North Carolina. Born and raised in southern California, she earned her undergraduate degree in sociology from UCLA and her master's degree in education from California State University at Los Angeles. In her free time, she enjoys spending time with her family, friends, reading, and traveling the world.
Connect with Kathy at kathy@secufamilyhouse.org or 919.932.8004.
Jennifer Adams, Development Associate - Administration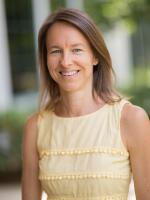 Jennifer is North Carolina born and bred, landing in Chapel Hill after graduation from UNC-CH with a BA in Political Science. She and her husband live in Chatham County with their two children and two dogs. Jen is active in the community and spends time volunteering when she isn't shuttling her kids to their various activities. Her passions include health and fitness and spending time outside with her family.
You can reach Jennifer at jennifer@secufamilyhouse.org or 919.932.8002.
John Piekielniak, Facilities Manager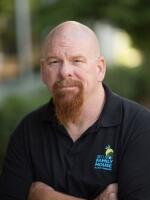 John has more than 20 years of experience in facilities maintenance and project management, and his contributions to Family House - indoor and out - contribute to the health, safety, and comfort of our guests each day. He attended Aiken Technical College and Augusta Technical Institute where he pursued coursework in HVAC/refrigeration and ornamental horticulture. John is a proud military veteran, having served in the Army National Guard as a forward communications operator. In his free time, he enjoys fishing and riding his motorcycle.
Contact John at admissions@secufamilyhouse.org.
Sandra DeLeon, Supervising Housekeeper
Sandra was born and raised in the Dominican Republic. After receiving her high school diploma, she took several law classes at the Universidad Catolica Nordestana in San Francisco de Macoris before eventually moving her family to Chapel Hill in 1997. Prior to joining SECU Family House in 2008, Sandra worked as a teacher assistant at a local day care center. She lives in Chapel Hill with her husband, Jesus, and children, Sammy and Cipatri. In her free time, Sandra enjoys cooking for her church's special events and spending time with her family and dog, Lilly. In addition to keeping the House spotless, you can often find Sandra lending an extra hand to our guests and acting as our go-to Spanish interpreter.
You can reach Sandra at admissions@secufamilyhouse.org.
Jabari Jerkins, Weekend House Manager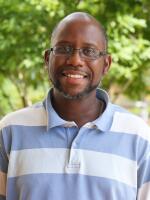 Jabari has been with Family House since the summer of 2008. He's a true Tar Heel, born and raised in Eastern North Carolina. Jabari earned a B.A. in History from UNC in 2005 and a Master's Degree in Information Science from North Carolina Central University. He works through the week as a Software Engineer with the State Employees' Credit Union (SECU). In his free time, Jabari likes to spend time with his wife Akehia and daughters Alana and Alexa, as well as camping and volunteering with his church.
You can reach Jabari at admissions@secufamilyhouse.org or 919.932.8008.
Susan Anderson, Evening House Manager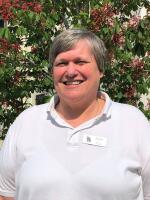 Susan Anderson comes to us after a long history of management at UNC-Chapel Hill. Susan managed large and small staffs at the bookstore, auxiliary services, and printing. During her more than 30 years in Chapel Hill, Susan volunteered at the Interfaith Council managing and serving meals and serving on the board, and she actively volunteers at St. Thomas More Catholic Community. Susan is a lifetime Tarheels fan and especially loves basketball.
You can connect with Susan at admissions@secufamilyhouse.org.
Chesley Cuicchi, Gift Entry Assistant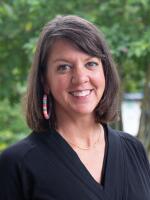 Chesley serves Family House as our Gift Entry Assistant. A Mississippi native who routed to Chapel Hill via Indiana, Chesley has a master's degree in Public Relations and Advertising from the University of Alabama. She can often be found volunteering in Chatham County schools when she isn't shuttling around or cheering on her children in their activities.
You can reach Chesley at chesley@secufamilyhouse.org or 919.932.8005.
Lori Matteson, Marketing Associate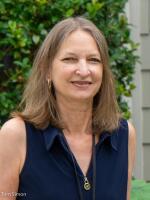 Lori Matteson joined SECU Family House in April 2022. Growing up in Orlando, she headed to the University of Florida for her postsecondary education in Business and Marketing. After 17 years of Sales, Marketing, and Business Development in the corporate world, she focused on family and volunteer work before beginning her second career in the nonprofit arena - most recently as a Mental Health Advocate and Marketing Communications Specialist with a Raleigh nonprofit. Lori loves the outdoors, reading, cheering on her favorite sports teams, and spending time with loved ones.
Lori can be reached at lori@secufamilyhouse.org.
Shelley Cobb, Finance Associate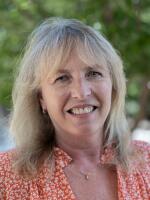 Shelley joined us in December 2021 as Finance Associate. She was born and raised in Portland, Oregon and earned a Finance degree from the University of Oregon. After working as an Executive Director for the Portland VA Research Foundation for the last 19 years, Shelley moved to follow her family and first grandchild to North Carolina. She lives in Hillsborough with her husband Ted, and overweight cat. Shelley enjoys spending time with her daughter Ashley, and her son Zach. Shelley especially loves spending time with her granddaughter Ava. Shelley and Ted enjoy golfing and traveling.
Shelley can be reached at shelley@secufamilyhouse.org.
Liz Cheney, Volunteer Services Assistant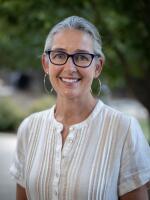 Liz joined Family house in June of 2022 as the Volunteer Services Assistant. She previously worked in Parent and Alumni Engagement for her alma Mater Connecticut College and for two co-educational boarding and day schools in Massachusetts. Liz is passionate about her work and is energized by the incredible people she meets managing volunteers. Born and raised in New England, Liz earned her undergraduate degree in Sociology from Connecticut College in 1992. She lives in Carrboro, NC with her husband Tim and dog Barkley. Liz enjoys walking on the beach, baking, exploring, watching basketball and spending as much time as possible with her adult children Izzy and Peter.
You can reach Liz at Liz@secufamilyhouse.org or 919.932.8092
Neal Morris, Part-Time House Manager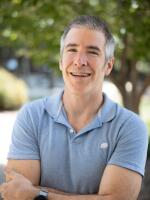 Neal joined Family House in July 2022. Born and raised in Chapel Hill, he earned his Bachelor of Arts in Mathematics from the University of North Carolina at Chapel Hill. After working for over a decade at UNC's Center for Faculty Excellence, where he helped teachers make websites and other materials for their classes, Neal stayed home full-time to care for his two young children. He likes getting to know the guests at the Family House and to help them feel as welcome and comfortable as possible. Neal also loves spending time with his family, reading, running, napping, and good conversation.
Tim Forst, Assistant Facilities Manager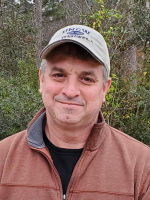 Some might call Tim a true Renaissance man. Teacher, Artist, and talented in building and repairing items, he graduated from Pitt", ie University of Pittsburgh, teaching 1st and 4th graders for several years. After moving to Virginia, he worked for a manufacturing company in tech support and engineering for 15 years. A self-taught builder of digital x-ray machines, he traveled all over the US, installing these machines in Indian Reservations. He has been fixing and building things since he was in high school. After moving to North Carolina in 2012, he tapped those skills to start his own construction company. Tim joined Family House in November of 2022. In his spare time, Time enjoys wood working, camping, gardening and hunting and fishing.