Dewey's
OUR LOCATION HAS CHANGED!
We are excited to share that we will now be operating out of the Family House Solarium! Come see us at 123 Old Mason Farm Rd.

Join us for our GRAND OPENING EVENT
Friday, November 16th at 10:00am!
Location: Family House Solarium (123 Old Mason Farm Rd)
Store Hours: Monday-Friday 10:00am-7:00pm
Saturday 9:00am-6:00pm
Sunday 12:00pm-6:00pm
Store Dates: November 16--December 23
(closed on Thanksgiving)
What is Dewey's Bakery?
Dewey's Bakery baked goods have been a treasured holiday tradition since the bakery opened in downtown Winston-Salem in 1930. Moravian Cookies were even hand-selected by Oprah Winfrey and featured on the coveted "O List" inside her magazine. Dewey's remains faithful to the origins of these time-honored classics, continuing to bake in the homemade tradition using original recipes and the finest ingredients.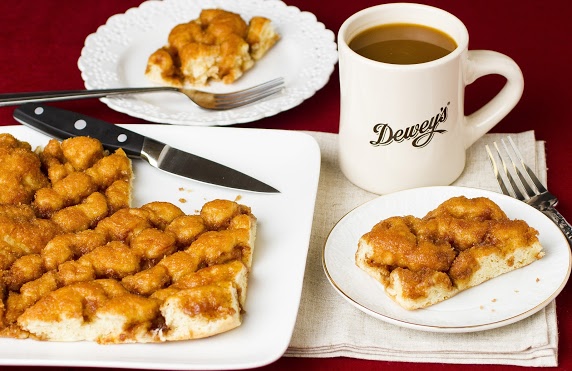 What does this have to do with Family House?
Family House will operate a Dewey's Bakery Holiday Shop in the Family House Solarium (123 Old Mason Farm Rd Chapel Hill, NC 27517) beginning Friday, Nov. 16. Run by volunteers, the shop will operate through Dec. 23 and will be open Monday through Friday from 10 a.m. to 7 p.m., Saturday from 9 a.m. to 6 p.m. and Sunday from noon to 6 p.m. 35% of proceeds from each sale will go directly to SECU Family House!
How can I help?
There are many ways to help!
Join us for the Dewey's Bakery Holiday Shop Grand Opening on Friday, Nov. 16 at 10 a.m. (or during any of our store hours!) and purchase gifts for your friends and family.
Purchase gifts safely and securely online. Use coupon code 33-18 at checkout to ensure that 10% of your purchase comes back to Family House!
Volunteer to work a shift (or many!) at our Family House location. Click the button below to sign up!
What if I have more questions?
Please contact Carolyn Fuller, Director of Annual Giving, at 919-932-8005 or carolyn@secufamilyhouse.org.