"Contemplation" by Jeanne Simpson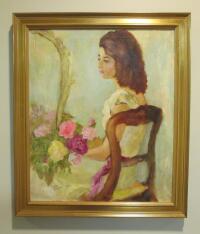 Contemplation by Jeanne Simpson, oil on canvas 23.3" x 19.5".  Appropriate replacement frame.
Jeanne Simpson grew up in Eastern North Carolina and was tagged the "Goldsboro Impressionist".  She was a student of Mabel Pugh at Peace College.  She painted during the 1930's-40's.  This painting was acquired at an estate sale in Durham, NC.
Estimated value:  $800