Bob Timberlake's "First Light Flight"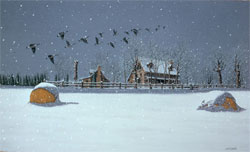 Bob Timberlake "First Light Flight". The scene is the main house and guest house of the new studio looking South. The main (Old Shoaf Barn) studio building was built in 1809 and Bob finished remodeling it with three stories and over 4,000 square feet in 1989. The original barn was moved from across town. The guesthouse was built ca. 1776-1780 on the northern end of Davidson County and moved to the property in 1987 piece by piece, as was the main studio.
Professionally framed and matted:  40" x 28"