Campaign Donor Spotlight: In a Son's Memory
"We stayed at Family House for seven weeks.  It's what got us through the whole ordeal,"  Linda Galante, mother of former Family House patient, Paul Galante, of Greenville, North Carolina.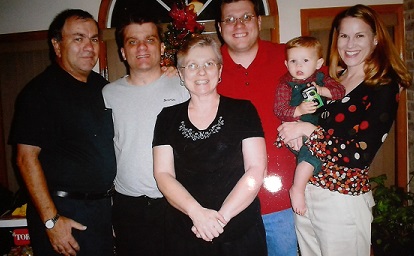 Details of Paul's long illness and consequent passing nearly eight years ago are still fresh in the minds of his mother, Linda, and his father, George. Theirs is a journey that no parent    should have to go through, yet they did, with strength, determination, and the support of a loving family. 
Just before Paul's first birthday, he was diagnosed with neurofibromatosis, a nervous system disorder that among other things is characterized by the presence of benign and malignant tumors.  While being treated over the ensuing years, he went on to earn a broadcast communications degree from Flagler College in St. Augustine, Florida, leading him to jobs as a master control engineer in Greenville and Washington, North Carolina.
In 2007, during surgery to remove a tumor on his back, Paul was diagnosed with stage 2 sarcoma – a high grade tumor with a propensity to grow quickly.  Two years later, another fibroma was found on his hip. It was removed by Dr. H. J. Kim, surgical oncologist at UNC Hospitals.  This led to more exhaustive surgeries and treatments until the doctors finally recommended that arrangements for hospice be made for Paul since there was nothing more they could do for him.
While Paul was a patient at UNC Hospitals, his parents stayed at Family House for seven weeks, making the long journey from their home in Port Orange, Florida, to be close to their son.  Linda shares with us that "there are no words that can adequately express what staying at SECU Family House during this ordeal meant to my husband and myself.  After spending a long day at the hospital, knowing you were returning to spend time with people who have become your friends and enjoy a warm meal was so comforting.  You didn't feel isolated and hopeless.  You were surrounded by people who were going through the same thing as you."
Soon after Paul's passing in January 2010, the Galante Family contributed funds to Family House that named a bench in Paul's memory.  It's a well-used bench, for it sits next to the gazebo and Zeny's Garden.   A few months ago, Linda and George surprised us with a capital campaign gift that will honor Paul by naming the new reception area when we expand Family House in the coming year (for details about the expansion, see the campaign website (http://www.secufamilyhouse.org/share).
We at Family House are so grateful for this significant gift and for their continued support of our mission. In the hearts of Linda, George, and the entire Galante family, naming the reception area will keep the memory of Paul alive: a kid who loved playing Batman & Robin and Luke Skywalker & Han Solo with his older brother; a young man who adored his nephews and niece; a young adult who lived by the motto, "Carpe diem" until the end.