Fun for All Weekend Results
The first Family House Fun for All weekend was a great success!  We had a great turnout over three days of events for all ages, raised funds from generous donors to support annual operating costs for a month's worth of rooms, and brought many new people to Family House to meet guests and learn about our mission.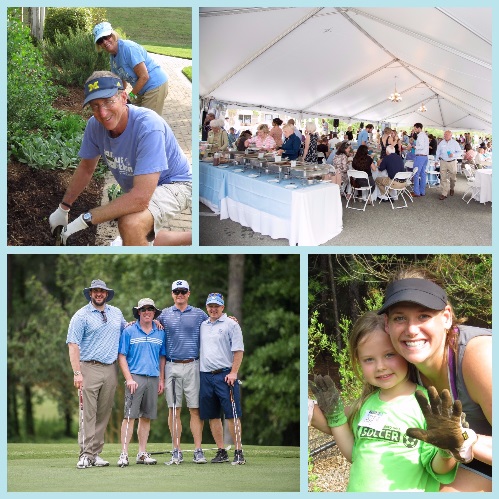 The weekend of events was hosted by Brian Chacos, former UNC football player and current Director of Scholarship Donor Development and Student-Athlete Relations for The Rams Club. The weekend began with a Thursday night pig pickin on the Family House campus under the tents with an amazing BBQ meal donated by Chapel Hill Restaurant Group. Guests enjoyed viewing hand-painted garden pig statues created by local artists and indie-folk music provided by Honey Magpie. The pigs, live auction and Fund a Family were opportunities for guests to show their support for the House. See pig pickin photos on our Facebook page. A special thank you to Heba Salama for capturing the event! 
Our classic golf tournament was held on Friday at UNC's Finley Golf Course. The day was hot, and so was the golf! Golfers competed for prizes and enjoyed the day on the links. See golf tournament photos on our Facebook page. Thank you to Kate Pope Photography for taking these beautiful pictures!
On Saturday morning, 74 volunteers and families cleaned, weeded, planted, sorted, shredded, baked, wrapped and collated at our first Family Service Day. It was a joy to work alongside our neighbors and share the House with new friends. See Family Service Day photos on our Facebook page. (And thanks to our very own Kathy Yasui-Der for these wonderful photos!)
Because of our generous community of donors, Fun for All Weekend netted $95,000 which funds each of the 40 rooms at the House for close to a month! Thank you to Presenting Sponsor, UNC Healthcare, and Silver Sponsors, Performance Subaru and Triangle Implant Center.  
A special thanks to our Fun for All Planning Committee, Ali Fromme and Jennifer Roberts, and Golf Tournament Chairs, Suzanne Kozel and Nicole Lake.
Our sponsors, committee and auction item donors play
an invaluable role in the success of our event.

Our sincere thanks to the many people who make this event possible: