Guest Spotlight: James and Janice Ford
"If you take a negative attitude, don't expect to get better."  This is how James Ford of Kenly, North Carolina, felt about being told he had bladder cancer nearly 12 years ago.  Since then he's had a cancerous kidney, ureter and part of his bladder removed to keep recurring tumors at bay while also undergoing numerous rounds of chemotherapy.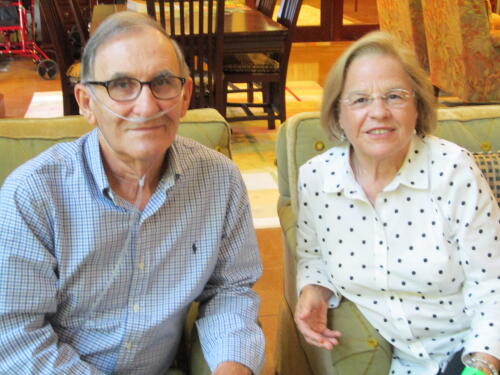 A patient at UNC Hospitals since 2006, James and Janice, his wife of 56 years, have been making theone and one-half hour drive to Chapel Hill for additional treatments. This is because during this time, he was also diagnosed with Stage IV lung cancer and Stage IV heart disease. He routinely asks his doctors to perform biopsies and to use the bad tissue for research.  "If there's not a cure for me, I want to help someone else," he shares. 
Six years ago, one of James's UNC doctors referred him to Family House and since then, he and Janice have been regular guests. When they are here, you can oftentimes find them in the kitchen in the early morning, getting ready for the day's appointments, yet always stopping to have a chat with the other guests and staff.
Because James and Janice have been longtime guests, they now refer to Family House as a "resort" – "a place to rest and recuperate in a safe, loving and friendly atmosphere."  Janice shared that when you tell your story to another guest, you both end up feeling better. Ever ready with the last word, James ends our interview by telling us that when you get cancer, you shouldn't be quiet. You need to be active.  "Don't say why, say why not me?  My motto in life is 'Let go, let God'."
In spite of the brutal fact that the cancer has returned to his bladder and other kidney, we have a feeling that this retired fleet supervisor has a lot more life to live and a whole lot more wisdom to share. He is following his life motto, and staying active.