Guest Spotlight: Jimmie & Deborah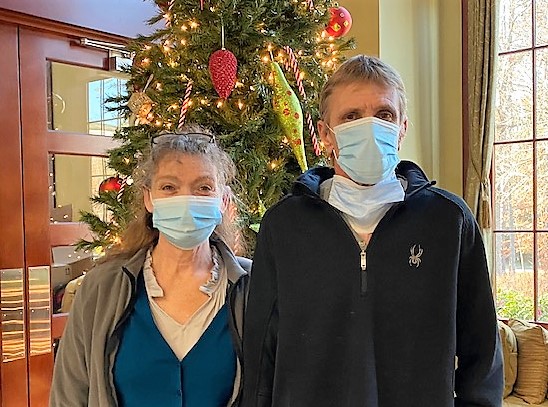 We get to know a lot of our guests at the coffee station during the early morning hours of the day before they head to UNC Health for world-class healthcare. Deborah Decker was a recent guest who we had the privilege of chatting with each morning. For six weeks early last winter, she would start her day by coming downstairs for the first of two morning cups of coffee, one for herself and the other for her longtime companion, Jimmie.
Last summer Jimmie was treated for COPD, but as his conditioned worsened, he was eventually diagnosed with sarcomatoid squamous cell carcinoma, an aggressive form of throat cancer. Under the care of doctors Lumley and Chera, a tracheostomy tube was inserted to help him breathe. Jimmie also received weekly radiation and chemotherapy to shrink the growing tumor in his throat.
A long-time resident of Roanoke Rapids, North Carolina, Jimmie was a retired logger and painter but had to quit work because of growing health issues. Together for seven years, Deborah has been there at his side, providing the kind of moral support only a caring and loving person could for a loved one.
Asked what staying at Family House has meant to them, Deborah tells us, "this place has been like heaven. People are super nice and kind. If you're having a bad day, someone is going to make you feel good here. Your spirits are lifted here. Everyone has been so kind to us, including Stacey Pittard, a UNC social worker who helped us with transportation."
As Jimmie's treatment came to an end, he and Deborah wanted to share their thanks to everyone who helped them during this six week journey. Deborah tells us, "I would love to repay back in some way to make someone smile." We wish Jimmie well and hope that his follow-up visit at UNC Health will show that the treatment worked. We also look forward to our next early morning chat with Deborah.