Guest Spotlight: Tylee Craft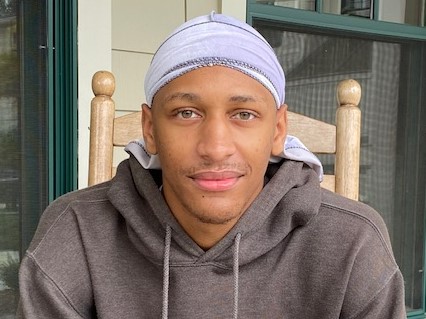 Tylee Craft on the porch of the Family House Pine Wing May 2022
Tylee became a guest at SECU Family House in March of 2022. Hailing from Sumter, South Carolina, this rising senior at UNC - Chapel Hill was until recently, a propitious wide receiver on the Carolina football team. After experiencing severe back pains and spasms, and eventually collapsing in the Kenan Football Center this past February, he was admitted to UNC Hospitals and diagnosed with large cell neuroendocrine carcinoma – a rare form of lung cancer.
Under the care of Dr. Jared Weiss, who specializes in lung and head/neck cancers at UNC Health, Tylee is undergoing chemotherapy and immunotherapy treatments. Ever the athlete, his drive, positive attitude and strong mental health have remained in tack, thanks to the constant support of his mother. September, and an aunt who alternate staying here with him. In addition to his mother and aunt and a host of other family members, Tylee has been getting mountains of support from the UNC Athletic community: almost daily cards from the football team, coaches, spouses, teammates, regular outdoor visits with football friends, and friends from his hometown. Recently, the UNC Academic Support Program for Student Athletes, donated the softest blankets for our guests.
Asked what staying at Family House has meant to him, Tylee shared that he really appreciates that his mom and aunt can stay here with him - that our home has allowed him to "keep his mind off from being a patient and stay positive." We wish Tylee all the strength and love as he fights cancer.
May 20, 2022