Family Service Opportunities
Volunteers of all ages help make this house a home for the many guests who stay at Family House, and in many different ways!
In order to volunteer on-site at Family House, children must be 14 or older.
Families with children under the age of 14 are encouraged to participate in some of our creative off-site volunteer opportunities (designed with kids in mind!):
Organize a Fundraiser
Whether it's a lemonade stand, bake sale, or garage sale – a community fundraiser not only brings in funding to support our guests, but also spreads the word about Family House. Be sure to take pictures and send to us for a shoutout on social media!
Host a Wish List Drive
Anything you use at your home we use at ours. Help us stock our home with toiletries, paper products, and food items used on a daily basis.
Stock the Freezer
Make family-sized soups or casseroles that can be stored in the community freezer for Family House guests to cook/reheat on nights when there is not a meal scheduled.
Cookies & Cards
Bake homemade cookies and decorate heartwarming greeting cards for our guests.
Goodie bags
Gather fun treats (such as lotions, puzzle books, personal care items, or other loving items) and assemble in care bags to give to guests at check-in.
To learn more about and coordinate your Family Service opportunity, contact Georgie Clemens.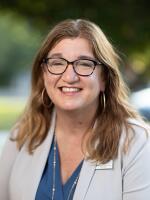 Georgie Clemes
Volunteer Services Manager
georgie@secufamilyhouse.org