Virtual Happy Hour Recap!
Enjoy the "greatest hits" from our 2020 Virtual Happy Hour on Friday, May 1, which took place in lieu of the Golf Classic & Evening Celebration due to the COVID-19 outbreak.
Despite physical distancing, more than 75 of our community members united on a Zoom call to support the Family House mission and fundraise to help cover our daily operational costs. Many thanks to Dr. Ian Buchanan of UNC Health for hosting the Virtual Happy Hour!
First up, cocktail-making with Gary Crunkleton
We watched Gary create The Crunkleton's famous Elderflower Sour to kick off our evening together!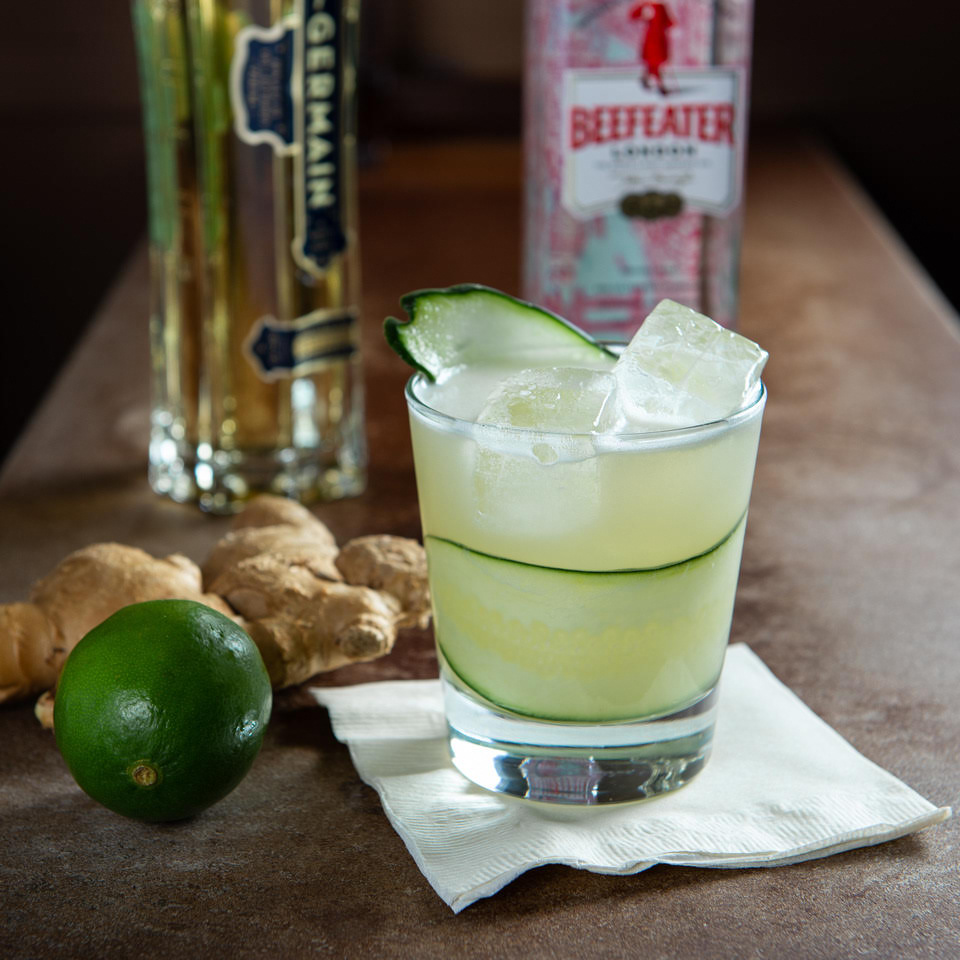 Elderflower Sour, photo via Alex Caterson, The Splinter Group
1.5 oz Tanqueray
.5 oz St. Germain
.5 oz fresh lime juice
.5 oz preserved lime syrup
.75 oz ginger syrup
shaken and garnished with a cucumber wheel
Next up: Updates on the House from Executive Director Janice McAdams
As with all aspects of life, COVID-19 has impacted operations at Family House. If you have not already heard, Family House temporarily closed on April 1. This challenging decision, made in conjunction with our partners at UNC Health, was not an easy one.
But the health and well-being of our guests is always at the forefront, and the best way for us to serve our guests at this time is to not serve them as guests. We truly look forward to the day we can reopen and once again enjoy the guests, volunteers, staff members, and donors who make up the Family House community.
Despite the House closure, it is still not quiet at Family House! While practicing social distancing, our facilities team has been updating the current building, including painting rooms, servicing HVACs, repairing plumbing features, and much more.
Our House Manager Claudette still works the Front Desk and continues to refer our guests to area hotels at reduced rates.
And perhaps most exciting of all, construction continues on our Guest Kitchen renovation and our 36-room expansion.
Presenting: A Virtual Tour of Family House Construction!
Join the Family House Facilities Manager on a virtual tour of the new building, currently under construction, which will open late 2020 to nearly double the number of families we can currently serve.
Thank you to Ariyah April for shooting this video and Nick Clemens (Keys and Cross Media) for editing it.
Enjoy a few words from Shannon Kennedy, Silver Sponsor
See why Chapel Hill-based community builder and realtor Shannon Kennedy chooses to give to Family House. Join her by scrolling down and making your gift today. Click here to view all our Virtual Happy Hour sponsors.
Next, A Special Message from Mack and Sally Brown:
Consider joining UNC Head Football Coach Mack and Sally in making a financial donation to Family House today. Your commitment helps keep Family House a home for the patients and caregivers from North Carolina and beyond who will soon be joining us once again. Our sponsors have already helped us raise $60,000. Help us meet our goal of $25,000 in donations for the evening. Thank you for your gift!

Thank you to each an everyone of our donors and community partners, without whom we could not provide a safe, nurturing, and affordable home for UNC Health patients and caregivers to stay when they must leave home and travel to Chapel Hill, NC for life-saving medical treatment. Because of you, we have reached our fundraising goal for this Virtual Happy Hour!