After Dinner Conversations
Family House guests rely on the expertise of many types of medical professionals, and for a recent six-week period, the tables were turned.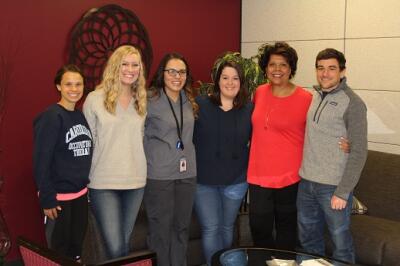 This past winter a group of graduate students in the Department of Allied Health Sciences at UNC Chapel Hill came to Family House to meet with guests during and after dinner. Led by faculty advisor Dr. Brenda Mitchell, the group consisted of students training to be occupational and speech therapists and rehabilitation and mental health counselors.
Graduate students Alyssa, Olivia, Alexandria, April and Sascha came to Family House to hear guest stories, and our guests shared insights into their lives as patients and caretakers. One of the students' goals was to better understand what seriously ill patients are going through.
We learned many things from these bright and engaging students: The significance of mindful listening, reflection, spirituality and direct connections; the power of being present; the necessity of direct human interactions; and how social support plays an important part in rehabilitation. We are so grateful to have the student's insights as we strive to be a caring and supportive network for all the families we serve.