Family House Diaries: Giving and Getting Hope
Bill and Julie Patterson live in East Helena, Montana—but for the past seven months, they've called Family House home. Bill's receiving treatment at UNC Hospitals for an aggressive form of acute myeloid leukemia (AML) after learning he needed a bone marrow transplant last fall. While he had the option of being treated in Seattle, Bill and Julie opted for treatment in Chapel Hill because of their familiarity with the area. Years ago, Bill worked as a lieutenant with the Chapel Hill Police Department.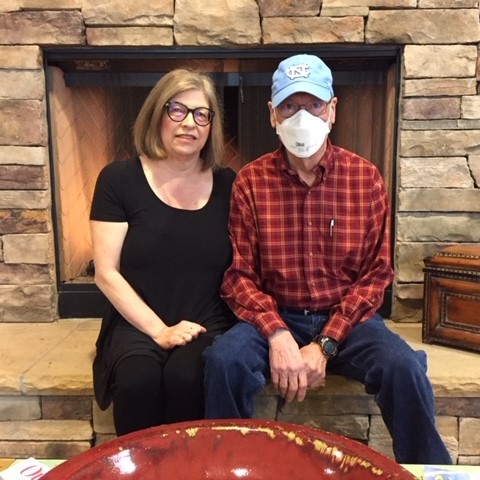 From the moment they walked through our doors, Bill and Julie say everyone made them feel right at home. When asked how important is a place like Family House to them, Bill imparts that Julie is able to stay here and be with him every step of the way. That and the entertainment, therapy dogs, meals, walks in the nearby North Carolina Botanical Garden, rocking in the porch rocking chairs, and reading in the gazebo have all contributed to his healing and made our hospitality house feel, in his words, "like home and and family."
Bill goes on to share that when you're going through a critical illness, having a built-in support system is critical. Thanks to Julie, his primary caregiver, and the numerous friends they've made at Family House, there's always someone to talk to: a guest going through a similar illness; another caregiver; one of our many dedicated volunteers; compassionate staff. "It gives me hope to talk with them," Bill shares. "My chances of survival are 50-50. It's hard to have hope when you're going through treatments, but when you can talk with the other guests, you get real hope here. Everyone is so welcoming... when you have that kind of atmosphere, hope never goes away. All of us give each other hope."
For Julie, staying at Family House to care for Bill has been worth the sacrifice in spite of the strain it has put upon their family. Having missed most of her son's senior year of high school and her daughter's 21st birthday, to see Bill get better each day has made that decision the right one for their family.
"One of the most wonderful things here is that you can be engaged or not engaged. No one casts aspersions on you here. We all do our part when we can." For Julie, cancer is a "strange and quirky gift," in that "it's brought my husband and I closer together. I also would not have gone through this as easily had it not been for the staff and volunteers here."
Asked to describe what Family House is doing right, Julie feels that "Family House knows how to blend professionalism with compassion. You can count on a kind word, a hug. There are multiple levels of relationships here. This is the most fabulous staff." She goes on to tell us that she regularly text messages with several of the guests—all wanting to support each other, all wanting to help in whatever way they can, and all wanting to take care of each other. "You have arms wrapped around you when you stay here," she says.
Not too long ago, Julie needed to return to East Helena to take care of some family business. She felt comfortable leaving Bill because she knew he would be in good hands with the support network that's been built around them at Family House. Soon after she returned from her hometown, she shared with us that "when I was in Montana, I missed my family at Family House."
Thanks to the great team of medical professionals at UNC Hospitals and the netowrk of care Bill and Julie continue to receive at Family House, we have every reason to believe that he will beat this cancer so he can Julie can move on to the next happy and exciting phase of their lives.