Fond Farewell to a Longtime Co-Worker
Our staff said a sad farewell to Maung Nge last week. Maung first started working with us as a Floor Attendant in 2010 and then eventually became our Assistant Housekeeping Supervisor. Not only did he help to keep the house sparkling clean, he also served as an interpreter for other Burmese speaking individuals. Maung was always willing to help out in any way that he could, which oftentimes meant assisting guests and staff with a variety of tasks. His beautiful smile and grace became synonymous with his strong work ethic.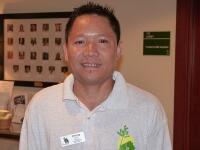 In 2007, Maung and his family moved to North Carolina from their native Burma. He and his wife, Gyi Way, have four children ranging in age from 9 to 15 years, and he enjoys playing volleyball and tennis with friends. The family currently lives in Chapel Hill, but in October, they'll be moving to Mebane.
"I like working here and I like everyone here," says Maung. "I enjoy helping other people. Everyone is so kind to me here, even though my English is not always the best at times. People love and understand me here."
Maung's new job is at UNC Chapel Hill, so he won't be going far. Though it's hard to imagine Family House without Maung, we're thankful that we got to know him and that he has this new opportunity. We wish him the best as he embarks on this new chapter in his life.