Guest and Volunteer Spotlight: Creative Spirits
Guests and volunteers share meals, companionship, and sometimes, a creative spirit. Over several weeks while she recovered from a double lung transplant, guest Liz Mosely learned to quilt from long-time Family House volunteer, Jean Fetterman, master quilter and proud owner of Willie, one of our therapy dogs.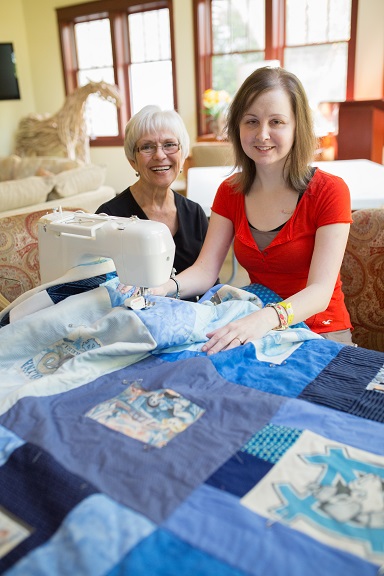 The results were beautiful in every way: Liz surprised her husband Johnny with a homemade Tar Heel-themed quilt that she and Jean had created together in the Family House solarium. And in the process of teaching and learning the intricacies of creating an original masterpiece, the two artists formed a strong bond of friendship.
Liz and Johnny are now back home in Concord, North Carolina, enjoying the comfort of the beautiful quilt and memories of a new friendship. Excited with the success of this project, Jean is now interested in teaching interested house guests how to quilt. To that end, a quilting friend of hers recently donated a brand new sewing machine to Family House.
Our volunteers are truly a giving group of individuals. We are thankful for their unselfish gifts of time, generosity and talent.