Guest Spotlight — Carole Norman and Liz Lane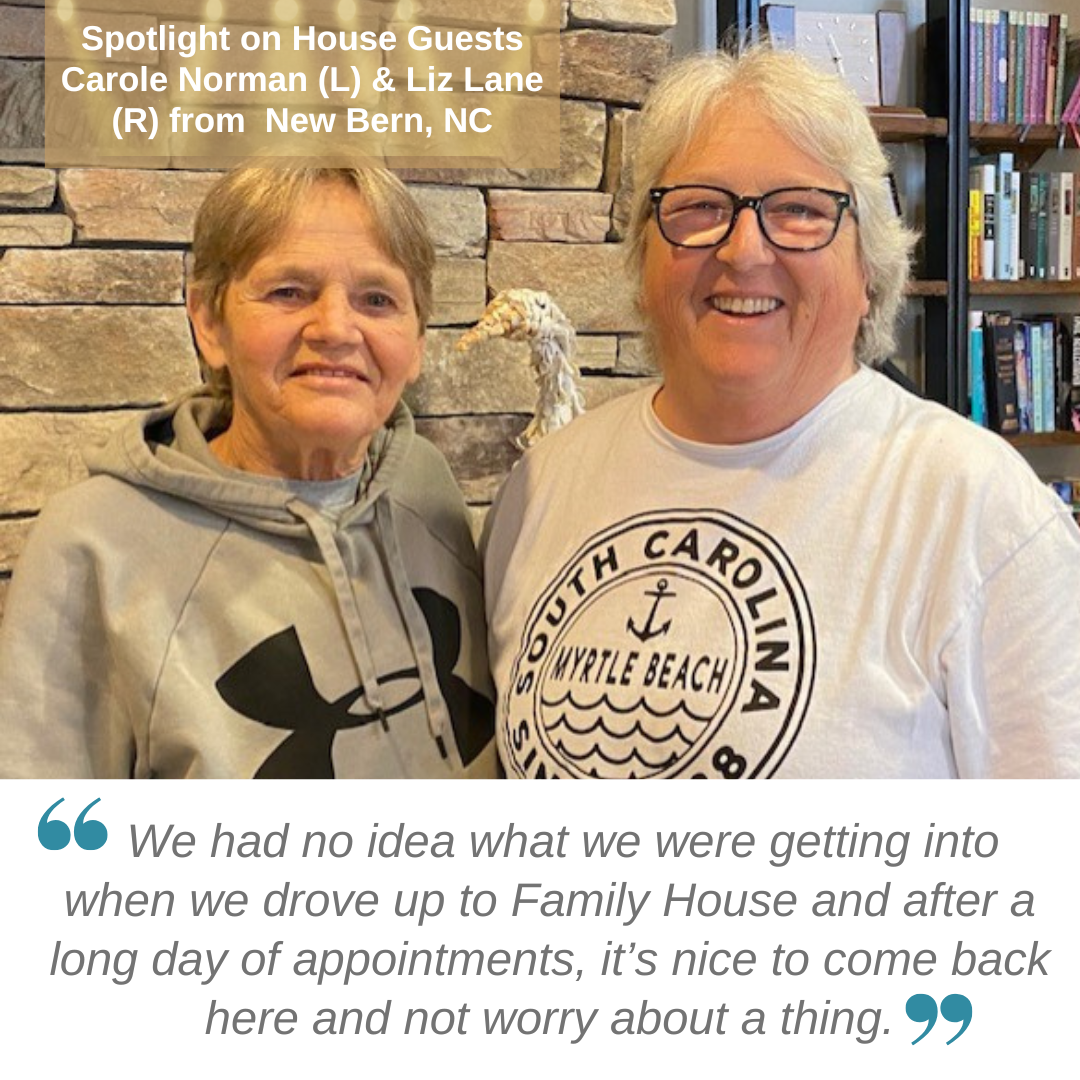 Carole Norman and Liz Lane
Carole Norman and Liz Lane have been together for 36 years and have been married since 2014. Hailing from New Bern, North Carolina, this affable couple recently sat down with us in the hearth room here at Family House to share Carole's medical journey.
Five years ago, Carole and Liz were traveling around the United States on an extended vacation. When a chronic cough would not go away, Carole saw her doctor and was eventually diagnosed with lung cancer. Selling their recreation vehicle, they moved east to New Bern. After a lobe was removed from one of her lungs, Carole underwent chemotherapy and then radiation to keep the cancer at bay.
Earlier this year, Carole experienced shortness of breath so her pulmonologist in New Bern sent her to UNC Hospitals for further, extensive testing. Under the excellent medical care of doctors Raymond Coakley and Jason Lobo, Carole and Liz stayed at our hospitality house while Carole was evaluated for a possible lung transplant.
When asked what staying at Family House has meant to them, Liz shared that their experience here has been "incredible, relaxing, and supportive." Everyone asks them what can be done for them. "We had no idea what we were getting into when we drove up to Family House and after a long day of appointments, it's nice to come back here and not worry about a thing."
As Carole and Liz wait for crucial test results – results that will determine if Carole is a candidate for a lung transplant, we have no doubt that whatever the professionals say, this warmhearted and steadfast couple will get through this as they have the past 36 years, together as one.