Guest Spotlight: Cookies and Comfort
The smell of fresh baked cookies has wafted through the house for several weeks, thanks to Family House guest Kara Ross and her mother. While Kara received treatment for triple negative breast cancer (TNBC) at UNC Hospitals, she and her mother, Kris Murtagh, spent much of their time in our kitchen baking for other guests. For Kara, our kitchen feels like home. "I don't worry when I'm here. I even forget that I have cancer sometimes."
Kara is a young mother, wife and daughter from Richlands, NC, and a fighter. After initial treatment in Wilmington, NC, Kara decided to come to Chapel Hill because of the quality of care and specific treatment for TNBC at UNC Hospitals. TBNC is a type of breast cancer that doesn't express the genes for estrogen, progesterone or for the HER-2 protein. Her team of specialists includes Dr. Hyman Muss, oncologist, Dr. Kristalyn Gallagher, surgical oncologist, and Dr. Timothy Zagar, radiation oncologist.
Kris is an operating room nurse who lives in Downingtown, Pennsylvania. It was a rare morning not to find Kris in the kitchen at 6 a.m. baking several varieties of homemade cookies, cooking breakfast casseroles, or making tasty pasta dishes for other guests. Volunteers and staff couldn't resist stopping by the kitchen for a fresh cookie, either. And If Kris wasn't cooking, she was comforting our guests – listening, sharing, and always ending a conversation with a hug.
As Kara says, the minute you walk through our doors, "you're no longer the odd man out. Everyone here has pretty much the same story. I can take my hat off and not feel ugly. Everyone here is walking in the same shoes."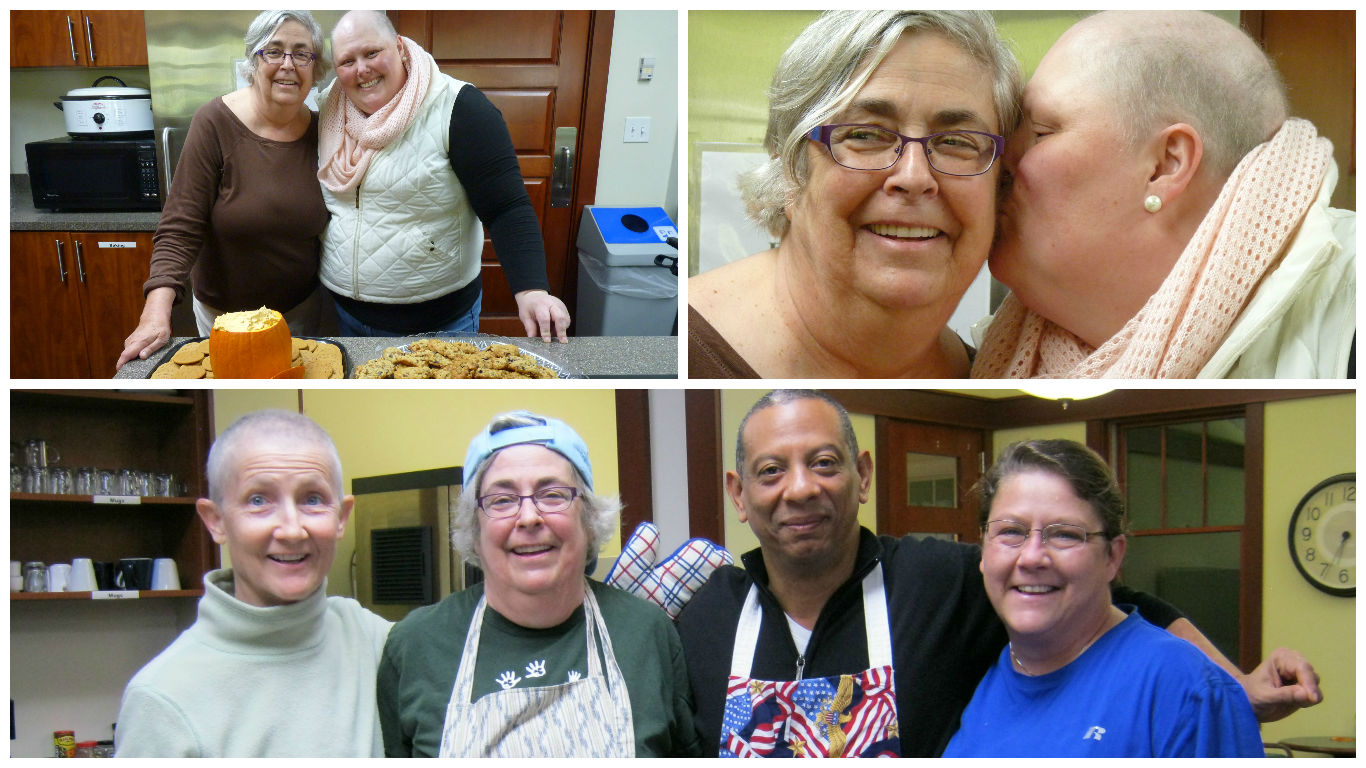 Kris adds that Family House serves "a greater purpose. It's not about putting a roof over a head. It's taking care of the psychosocial needs that we all have" while staying at the house. Relationships are formed, and there's always a shoulder to lean on. "If someone is crying, you go to that person and help them. Guests feel safe here," says Kris.
Both Kara and Kris realize that they can't change certain things, and that it's more important to be there in the present when someone is in need. Strangers become friends, brought together due to unimaginable medical crises. This is what happens at Family House.
Since her diagnosis, Kara has learned that the hardest thing about having cancer is that you learn who you think you can count on is not necessarily who is going to show up. Family is the most important thing of all, and laughter has kept her going, too. "Cancer teaches you patience," she says.
For Kris, preparing home-cooked meals and dozens of cookies became a tangible way for her to nurture so many souls in so many immeasurable ways. The Family House kitchen, like in most other households, is the heart of the house. Eleanor Roosevelt was once quoted as saying "Many people will walk in and out of your life, but only true friends will leave footprints in your heart." As they were heading home to Richlands and Downingtown, you could almost see the footprints that were left behind by these two wise and wonderful ladies.
Kara and Kris were interviewed by local radio station WCHL while they were here, and are also the subject of a Family House Diary. In each story, you'll hear in their own words how much they appreciate the caring environment at SECU Family House and UNC Hospitals.