Guest Spotlight: Endurance and Enduring Love
Elaine and Richard Burns dreamed of spending their retirement years by the beach. Earlier this year, they drove down to North Carolina to purchase a home in New Bern. Having lived in Portsmouth, New Hampshire most of their lives, the couple wanted to be closer to Richard's brother.
Then their lives took an unexpected turn. Shortly before they were scheduled to close on their new home, Richard had a stroke. He was air-lifted by helicopter from CarolinaEast Medical Center in New Bern to UNC Hospitals in Chapel Hill.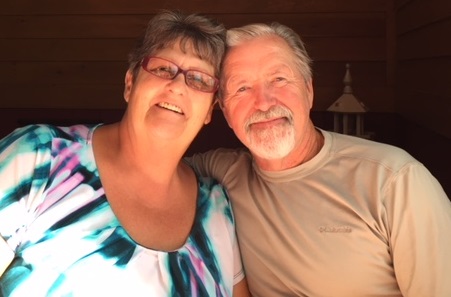 While Richard received expert medical treatment for the bleeding in his brain, Elaine stayed at SECU Family House for nearly a month. Richard was in and out of ICU. Elaine quickly established a routine: rising early to be by Richard's side, spending long days in the hospital, and returning to Family House. On some of those evenings, she found waiting for her a hot dinner that had been prepared by our volunteer meal providers. In the meantime, Elaine, an affable, retired insurance worker, managed to make a lot of new friends here.
"I'll be raving about this place to my friends in New Hampshire for a long time," Elaine tells us. The women here are beautiful people. I hug them each night. It helps me sleep better at night." From her perspective, being able to stay at Family House helped her to take care of herself despite tremendous stress over her husband's serious condition. Elaine cites having the shuttle available to transport her back and forth from the hospital each day and being able to discuss Richard's illness with others as benefits of staying at Family House. These are things, according to Elaine, "you can't pay people back for. It's meant the world to me."
Elaine and Richard are now back in Portsmouth while he undergoes rehabilitation for the stroke. These high school sweethearts decided that the move to New Bern was not meant to be. Yet before she began the long drive back to New Hampshire, Elaine was determined to pay it forward: she's spreading the word about what we do here in hopes that her area will someday build a similar respite for families in need.