Guest Spotlight: Grace and resilience
As Lynn tells it, she's not given up yet. She has a whole lot of life left to live as far as she's concerned. Diagnosed with cystic fibrosis soon after birth, this attractive and petite 47 year old received a double lung transplant in 2002. In 2012 she had a sarcoma removed by UNC surgical oncologist Dr. Karyn Stitzenberg. For the past twelve months, she's been dealing with post transplant lymphoproliferative disease (PTLD), a specific type of lymphoma that can affect transplant patients.
Lynn and her mother, Diane, have been guests at Family House since April 2014 while she receives treatment at UNC Hospitals under the guidance of hematologist/oncologist Dr. Steven Park. At one point, thanks to a strong regimen of chemotherapy drugs, the cancer went away. In September, the cancer came back.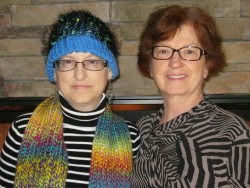 Lynn and Diane share that Family House has been more than a home away from home for them. These Wilmington, NC residents say a huge burden is lifted from their minds, knowing that they have a comforting and welcoming place to return to after Lynn's grueling chemotherapy sessions. What makes Family House so special to them is that they feel a sense of community here. Guests know what they're going through, and this has made all the difference in the world for them.
Lynn and her mom recently got the good news that she's been accepted into a clinical trial at the Memorial Sloan Kettering Cancer Center in New York that specifically addresses her type of cancer – the next phase as she fights cancer. As with all of our guests who stay here for extended periods of time, they, too, have touched us with their grace and resilience. Lynn, we'll be thinking of you!