Guest Spotlight - Maurey Verzier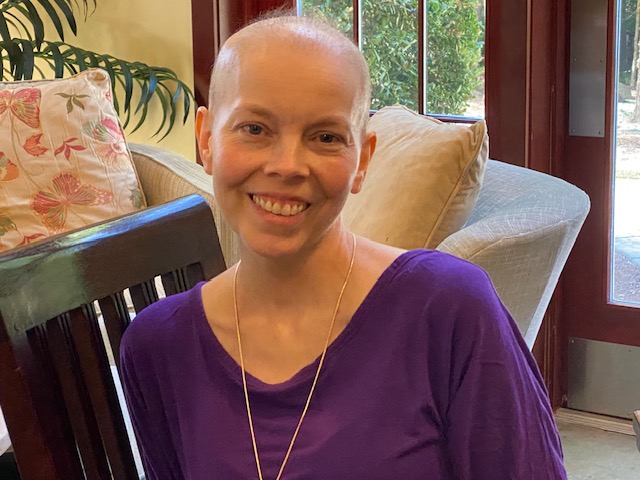 FAMILY HOUSE GUEST — MAUREY VERZIER
A year and a half ago, Maurey was diagnosed with leukemia after experiencing extreme fatigue, an aversion to certain foods and severe migraines. Treated at ECU Health in Greenville near her home in Farmville, she then went into remission for several months. Last fall, the leukemia returned.
Fast forward to April 7th of this year. Maurey underwent a bone marrow transplant (BMT) under the care of Dr. James Coghill, a hematology and BMT specialist at UNC Hospitals. Per procedure, she was in the hospital for 120 days before coming to SECU Family House for several weeks, going back and forth to the hospital for follow-up care.
Maurey experienced some complications, post-transplant, and needed to see her many specialists several days each week. She commented that the close location of Family House made it a whole lot easier to only travel 1.5 miles for these appointments. In between visits to the hospital, she enjoyed taking walks around the grounds here while meeting countless new friends. She tells us "it is so comfortable being here. It's given me the strength to keep going. The people are so kind and so accommodating. I've reached so many milestones here. This is a place of healing."
We're glad to report that Maurey was able to go home soon after our chat – significant in part because she and her husband were getting ready to celebrate their 17th wedding anniversary and renew their vows.
Asked what keeps her going, Maurey shared that her "strong faith and knowing that things happen for a reason" have helped her get through innumerable hurdles. In addition to that, she tells us that her two pre-teen kids, her husband, her caretakers and the rest of her family gave her reason to keep the faith. UNC Hospitals also played a significant part. They had multiple plans for Maurey as well and that included her not losing her life over cancer.
We wish Maurey all the very best as she continues her long road to recovery. We look forward to seeing her again when she returns to Chapel Hill for follow-up appointments.