Guest Spotlight: No is Not an Answer
Amy is a fighter and does not take "No" for an answer.  Seven years ago this retired Navy veteran was experiencing problems with her breathing.  She went to the VA Hospital near her home in Taylorsville, North Carolina. After several tests were done, she was eventually airlifted to UNC Hospitals.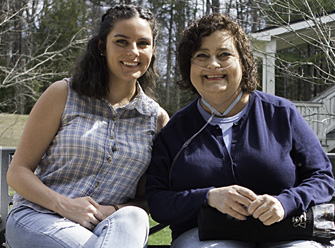 Diagnosed with idiopathic pulmonary fibrosis, a respiratory disease in which permanent scars are formed in the lung tissue, Amy was told that she was terminal and that she wouldn't survive a desperately needed double lung transplant.  Refusing to believe this, she got that lung transplant just over two years ago and even though she's attached to oxygen 24/7, she's thankful for every single day that she gets to spend with her family and other loved ones. Her daughter Madison is pictured here with her at Family House. 
Thanks to her team of doctors at UNC Hospitals (Dr. Jason Lobo, Medical Director of Pulmonary Transplant and Interstitial Lung Disease; Dr. Raymond Coakley, pulmonologist; and Dr. Benjamin Haithcock, cardiothoracic surgeon), Amy has focused on celebrating life and being there for her family's milestones. She says the best part of UNC Hospitals is the staff, and that everyone - including the doctors, nurses and cafeteria workers - has played a vital part in her being here today.
Post-transplant, Amy now stays at Family House every couple of months to undergo photopheresis treatments, a type of immune therapy, to prevent lung rejection. Research confirms that patients are more likely to improve when they are supported, so it is not surprising that Amy feels that the best part of her stay at Family House has been all the life-long friends she's made over the years. She feels that patients come here to "heal emotionally" and as a consequence, special bonds are made as they garner strength from one another.  In Amy's words, "We motivate each other. We pray with each other." She also appreciates our strong core of volunteers, especially those who prepare scrumptious meals for guests. "The meals are cooked with love," she says.
One of the special friendships that Amy has made while staying here is with Family House volunteers, Jean Fetterman and her dog, Willie, one of the half dozen therapy dogs who spend time with our guests on a regular basis (pictured below, with Amy and her daughter Madison.) That bond is so strong that Amy schedules her hospital appointments around Jean's (and Willie's) visit schedule. During the times when we're full, Amy stays with Jean and Willie in their Chapel Hill home. She feels that Jean and Willie have kept her motivated and have made her feel good about herself. 
Meet Amy and celebrate some of her milestones with her in this Family House Diary video.