Guest Spotlight: The Gift of Lasting Friendship
It is no coincidence that so many of the guests who stay at SECU Family House become our friends, making our mission here even more meaningful and consequential.
Such is the case with Marie and Frank Perez from Miami, Florida. They've been coming to Family House on and off since 2009 for Marie's on-going treatments for Stage 3 breast cancer under the care of Dr. Carey Anders at UNC Hospitals. Marie always comes with Frank and together, they have vowed to make as many lasting friendships as possible during their stays.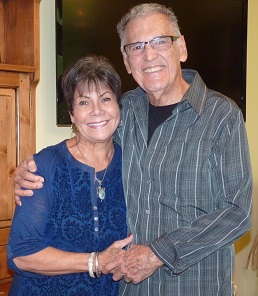 On a recent visit, Marie shared that returning to Family House is like coming home. "I love talking with the other guests.  I think it's important to take ownership of the house and to help people here as much as we can," Marie says.
Marie and Frank can often be found engaging in conversation with the volunteers, staff and guests – conversation that is always infused with bountiful laughter and emotion. They also make regular runs to Costco during their visits to contribute items they see on our Wish List.
Frank feels the compassion at Family House. "You never feel like a stranger," he says. "You are home when you come and stay at Family House."  Marie adds, "You never feel alone. This is a beautiful sanctuary. You feel safe here." 
Guests arrive. They receive treatment at UNC Hospitals. They return here at night for warm, homemade meals provided by our dedicated group of volunteer meal providers. Some share the day's events with the manager on duty or with a front desk volunteer. While all this is going on, strong bonds are built and indelible friendships are sealed. Magnetic friendships are made.
"There is a magnet in your heart that will attract true friends.That magnet is unselfishness, thinking of others first; when you learn to live for others, they will live for you."  Paramahansa Yogananda (Indian yogi and guru)