Guest Spotlight: "While here, why not help?"
On a recent weekday morning, LaTanya Nixon was in the kitchen, prepping a turkey for our house guests. She had looked on the meal calendar and noticed that no one had signed up to prepare dinner for our guests the following night. Mixing a concoction of spices that included cinnamon, no less (It keeps the turkey moist, she says), and slicing an assortment of vegetables that would eventually make it into the cavity of the turkey, she was more than glad to do this for our guests.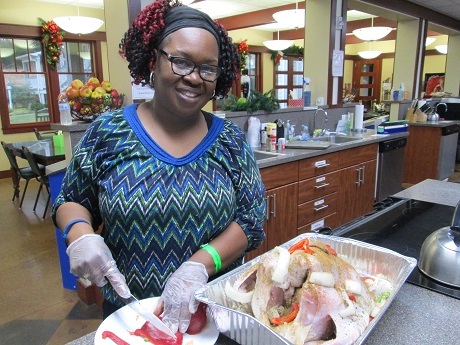 LaTanya was staying at Family House while her husband of five years, Anthony, received treatment at UNC Hospitals for a rare form of multiple sclerosis – a type so rare that it had robbed him of his cognition, mobility and vision. Hailing from Leland, North Carolina, he was staying in the hospital to receive chemo infusions which fortunately, were keeping him stable.
LaTanya gets what we're all about. A school administrator on leave while she cares for Anthony, she feels strongly about giving back wherever she can: donating her time, buying needed pantry items, cleaning the kitchen and talking with our guests. "While here, why not help," she says.
When asked what Family House has meant to her, LaTanya pauses then says, "Words cannot describe the impact that Family House has had on my family and my peace of mind. There is great fellowship here. It's safe. It's loving. When you stay here for more than two weeks, you feel as though you are part of a family." Like so many guests who stay here, LaTanya and Anthony are now part of our growing family.