Guest Spotlight - Yen Nguyen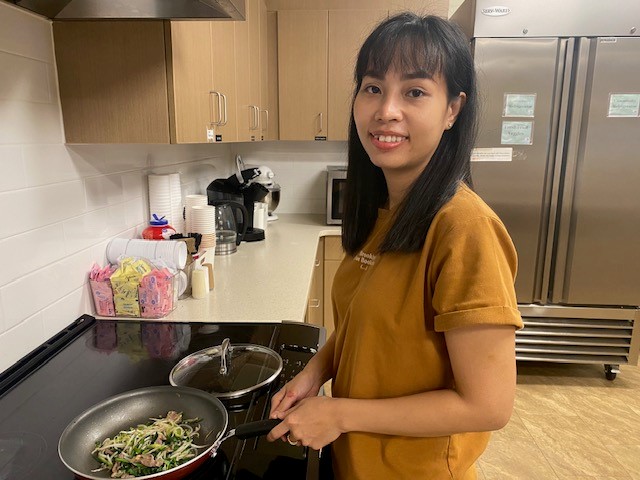 Guest Spotlight – Yen Nguyen
It has often been said that our volunteers are the heart and soul of SECU Family House. Recently, we've come to the conclusion that many of the caretakers who stay here can also be included in this group of caring, selfless and loving individuals.
We'd like you to meet Yen Nguyen of Wytheville, Virginia. Recently, Yen took on the role of caretaker for her brother, Ngoc. Hailing from Pisgah Forest, North Carolina, Ngoc needed someone to care for him for a pre, intra and post bone marrow transplant at UNC Hospital. Yen was his closest family member to care for him.
Most mornings we would find Yen cooking up a storm in the Pine kitchen, preparing several of Ngoc's favorite Vietnamese dishes. Afterwards, Yen would spend the rest of the day accompanying Ngoc to his many appointments, going to the local markets to purchase fresh produce and meat, and returning here to prepare dinner before turning in for the night. As Yen became more comfortable in her new surroundings, we would oftentimes find her sharing bowls of freshly prepared dishes with newfound friends here, oftentimes communicating through an interpreter application on her cell phone. She shared "I find everything good and comfortable here. I like talking with everybody. Sometimes I say "hello, how are you." They ask how my brother is."
While Ngoc has a long road to recovery, we have every reason to believe that because of Yen and the excellent care he received at UNC Hospital, he'll be able to return to his job as a chef in Pisgah Forest sooner vs. later. It also goes without saying that we are so grateful for the privilege of getting to know such loving and caring caretakers like Yen. We wish her the very best, too, as she returns to her daily life in Virginia.