Nominate a Volunteer of the Year Now
Nominations for the Annual SECU Family House Volunteer of the Year Award are officially open! As you know, volunteers play a critical role in supporting Family House guests. Volunteers cook, clean, organize, entertain, handle laundry and groceries, staff the Front Desk and more—all with the healing power of kindness.
Can you think of any individual or group volunteers who:
Demonstrate(s) outstanding commitment to the SECU Family House community through a commitment of time and willingness to give extra effort to their duties and responsibilities?
Exhibit(s) compassion and care for guests?
Inspire(s) and work(s) well with others, including staff and other volunteers?
If so, please nominate that individual or group as our Volunteer of the Year. Your nomination will be kept in confidence. Nominations are accepted from volunteers and staff.
There are three ways to nominate someone:
     ONLINE: Click this link to submit your nomination online
     PAPER: Fill out a nomination form at the Family House Front Desk and give it to the House Manager
     EMAIL: Send your nomination to claire@secufamilyhouse.org with a description of how your nominee meets the above award criteria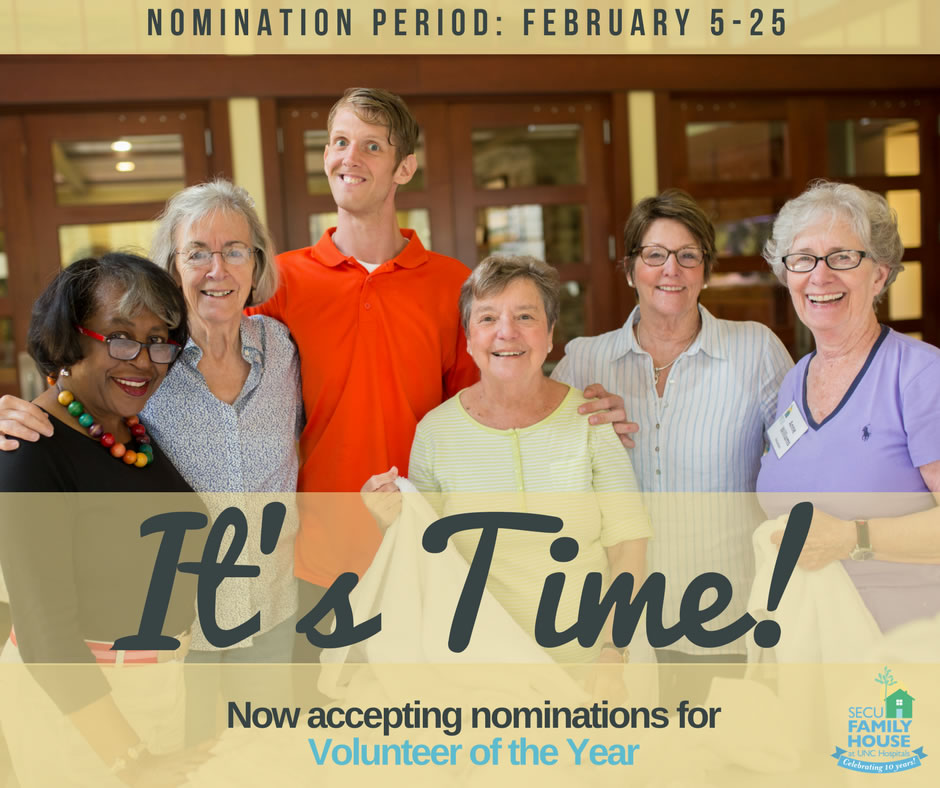 If you have questions, please contact Claire Veazey, Director of Volunteer Services, at claire@secufamilyhouse.org or 919.932.8009.
Past Volunteer of the Year Award winners include:
Carol Callahan & Marsha Roslanowick, 2016
Cheryl Batchelor, 2015
Carol George, 2014
Hazel Gibbs, 2013
Charles and Pats Harrison, 2012
Dianne Woodward, 2011