UNC Health Care receives nation's highest honor for supporting Guard and Reserve employees
As a partner in the UNC Health Care system, SECU Family House at UNC Hospitals is proud to be associated with this Department of Defense award. UNC Health Care is one of 15 recipients of the 2014 Secretary of Defense Employer Support Freedom Award, which is the Department's highest recognition given to employers for exceptional support of Guard and Reserve employees. This year's recipients were selected from 2,864 nominations received from Guardsmen and Reservists for going far beyond what the federal law requires to support their military employees.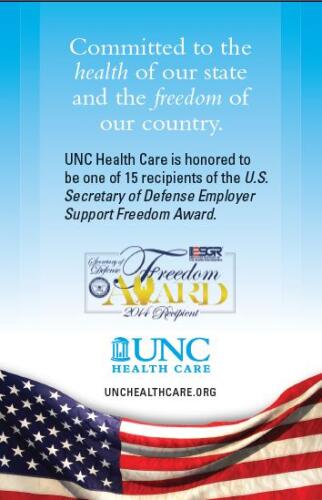 UNC Health Care was selected for several reasons, including:
UNC Health Care employees volunteered to maintain a military couple's house while both were deployed and actively took on extra work responsibilities to support the service of their colleagues.
The health system recognizes veteran employees and actively recruits military members and their spouses for employment.
UNC Health Care is currently developing a master's degree physician assistant program for veteran medics to continue their medical careers after leaving the military.
For more information about the award, read the UNC Health Care press release.