Volunteer Spotlight: Church Buddies
Sylvia Whitley is one of our many dedicated and hardworking volunteers. A retired 6th grade teacher, this native North Carolinian took it upon herself to speak with her friends at Holy Trinity Lutheran Church in Chapel Hill about Family House. Armed with wish lists in one hand and a speech in the other, she told them about our mission to care for guests who travel long distances to UNC Hospitals, and how community support is vital to sustaining our 40-bedroom hospitality house.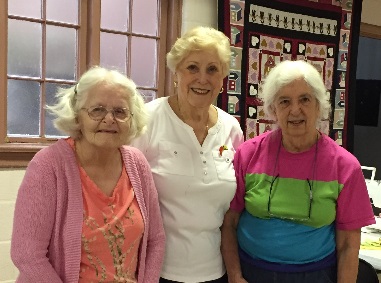 Two of her friends, Opal Snyder and Carol Parrish, 98 and 83 years old respectively, have taken Sylvia's message to heart. When Opal wins at Bingo, she selects items from the winner's basket and has Sylvia donate them to Family House. Each time she goes to the grocery store, she buys soap for our guests.
Carol always sends Sylvia to Family House with feminine hygiene products and candy that she's purchased. Aware that feminine products can be quite costly, she feels strongly that this is a way for her to give back.
Sylvia says Opal and Carol have taught her about unbridled compassion and the need to be a better listener, and feels blessed to know these two remarkable women: Women with a passion for giving, caring, quilting, church and yes, Bingo. We thank all three ladies for their kindness and generosity!