Volunteer Spotlight: Helpful Devon
The Chapel Hill/Carrboro City School system has a long history of meeting the needs of its growing and ever evolving diverse student population. Such is the case with Devon McLean, a 19-year-old student in the district's Career Based Vocational Training Program.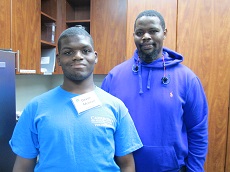 Devon is a student at East Chapel Hill High School. For the past 1-1/2 years, he's been volunteering at SECU Family House, accompanied by Exceptional Children assistant, Kenneth Lytle. This educational opportunity for Devon and terrific help to Family House was set up by the school system's Transition Facilitator, Susan Lombardo, and Family House Volunteer Coordinator, Allison Worthy. Once a week Devon completes a list of kitchen tasks: refilling the refrigerator with bottled water, cleaning all the kitchen counters and dining room table tops, cleaning the microwave ovens, loading and unloading the dishwashers. Occasionally he needs a verbal prompt from Mr. Lytle as he quietly does his job.
What stands out about Devon is his positive work ethic and his ability to get a lot done in the hour that he's with us each week. Always working with a bright smile on his face, he's learning important job skills - skills that will all hope will  lead to meaningful, paid work once he graduates from the program. We're glad to partner with the school system as we watch this young man from Chapel Hill become an independent contributor to the future work force.