Volunteers of the Year
Congratulations to Carol Callahan and Marsha Roslanowick, the Family House Volunteers of the Year! This dynamic front desk duo was recognized by their peers for their exceptional dedication and inspiration, and they received their award last week at our annual volunteer recognition breakfast.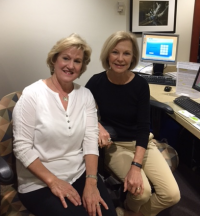 Carol and Marsha met on the job in 2008 shortly after the house first opened. Their warmth and calm demeanor sets the tone for the 9am to 12pm shift every Wednesday. They are especially good listeners and often provide our house manager with insights about guests and ways we can best support them. Their attention to detail is impeccable and they have their own systems and methods that keep them in sync during their shift. They have also helped Family House bring in corporate meal provider, PDQ [People Dedicated to Quality]. For the second year, PDQ is providing guests with a delicious quarterly meal. On those evenings, Carol and Marsha do double duty, picking up the food and serving dinner to guests with the same warmth and kindness that they bring to their jobs as front desk volunteers every Wednesday morning. Through the years, they have formed a wonderful relationship that has seen them through weddings, grandchildren and more. Carol and Marsha make a difference in the lives of many people, and we thank them for shining their light on Family House!
The annual volunteer breakfast is an opportunity to recognize and thank all of our volunteers. Nearly 100 people attended a delicious breakfast provided by the Chapel Hill Country Club, dined to lovely harp music by Marilyn Wienand, and received a take-home sweet treat from Nothing Bundt Cakes. Each year, hundreds of caring and compassionate volunteers contribute to a positive guest experience at Family House. Volunteer Coordinator Allison Worthy emphasized that Family House could not function without the commitment of all volunteers!