Welcome To Our Newest Staff
We'd like to extend a warm welcome to our newest employees, Venancio ("Ven") Navarro and John Piekielniak. Ven joins our hardworking and dedicated housekeeping staff. He lives in Chapel Hill with his wife, Deanna and son, Angelo. Educated in the Philippines, Ven lived in Essex, England before moving to North Carolina where his wife worked as a dialysis nurse and he worked as a domestic and kitchen assistant in a nursing home while caring for their young son. He was employed in the construction industry as a planner and schedule engineer in building, oil and gas construction before Angelo was born. In his free time, Ven loves to fish, read, and spend time with his friends and family. Asked what he likes about his job, Ven shared that he liked the flexible work schedule and the closeness of Family House to his son's school, Glenwood Elementary. He's also enjoying getting to know the Family House staff.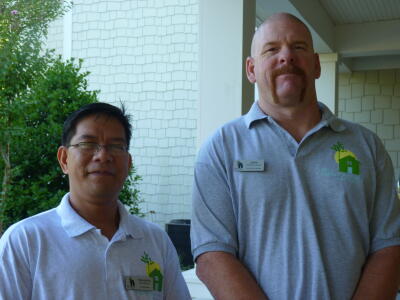 John comes to us by way of Edgefield, South Carolina, as our new Facilities Manager, working 80% of the time at Family House and the other 20% at Legacy Real Property Group. He has over 20 years of experience in facilities maintenance and project management. He attended Aiken Technical College and Augusta Technical Institute where he pursued coursework in HVAC/refrigeration and ornamental horticulture. John is a proud military veteran, having served in the Army National Guard as a forward communications operator. He lives in Pittsboro with his wife, Kathi, a licensed practical nurse, their teenage sons, Mathew and Ty and their dog, Leelee. In his free time, he enjoys fishing, camping, and riding his motorcycle. When asked what his first impression was of Family House, John shared that the staff are very friendly and the building is immaculate.