We're a winner! TBJ Corporate Philanthrophy Award
We are honored to be recognized with the Triangle Business Journal Corporate Philanthropy Award honoring area nonprofits and the corporate citizens (companies and individuals) that support them through philanthropy, volunteerism, board support and corporate partnerships.
"Support for our guests is truly a community effort, involving volunteers and donors from across the state of North Carolina and beyond," says Janice McAdams, Executive Director. "Patients and families who must travel for medical care at UNC Hospitals find an affordable, safe home at SECU Family House thanks to the contributions of many companies and individuals."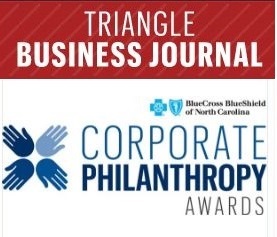 The Triangle Business Journal selected 21 winners from an online nomination process for its first-ever Corporate Philanthropy Awards, recognizing those who go above and beyond to make a difference in the local community.
"Often, the level of corporate citizenry mirrors the quality of life in our communities," says Jason Christie, publisher of Triangle Business Journal. "The Triangle area is fortunate to have so many passionate and helping nonprofits that are being guided and supported by committed companies across all industries."
Read more about the award and the other 20 winners on the Triangle Business Journal website. We are proud to be among such a distinguished group!