2018 Volunteer of the Year
It's time to cast your vote!
Below are the finalists for the 2018 Volunteer of the Year. These volunteers were nominated by their peers because they exhibit:
Outstanding commitment to the SECU Family House community as demonstrated through their commitment of time and willingness to give extra effort to duties and responsibilities
Compassion and care for guests
An ability to inspire and work well with others
Voting period is open from Monday (4/29) - Monday (5/6). The winner will be announced at the Annual Volunteer Appreciation Breakfast on May 8th.

Betty Hutton
Betty has been a volunteer at Family House since it opened in 2008. As a Front Desk volunteer on Tuesdays from 3:00-6:00p, Betty's commitment to volunteering each week is essential to Family House operations. Many guests check in for their stay, or return from a long day at the hospital, during that late afternoon shift, and Betty's natural composure and patience makes her perfect for the role. She loves to give tours of the house to new guests after they check in and often is the first person to help them truly settle into their "new home". According to her fellow volunteers, "Betty has been a gracious and conscientious greeter at the front desk for many years! She greets guests with a friendly smile and is always helpful in every way possible! She is devoted to the service of patients and their families as they walk through the Family House doors!"

Rosemary Pierce
Rosemary has been a volunteer at Family House since 2017. She comes every Wednesday morning to clean out the guest refrigerators and tidy the kitchen. This is an incredibly important role because guests will often forget to take food with them when they checkout. Keeping a safe, comfortable space for guests to store and prepare food is essential to our mission and we couldn't do it without Rosemary! Her fellow volunteers say "Rosemary is a total supporter of SECU Family House, not only giving much of her own time, but recruiting others to volunteer. She shows up frequently to train new recruits… and is a real ambassador for Family House!" Rosemary has also helped to develop a new, important role at Family House. She is a Meal Program Host – helping new meal teams execute their first meal at Family House, ensuring that guests enjoy a high-quality meal and that meal teams have a great volunteer experience.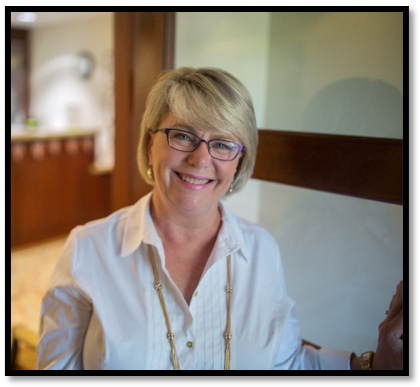 Ingrid Sztukowski
Ingrid has been a volunteer at Family House since 2012. She works as a Front Desk volunteer on Tuesday evenings from 6:00-9:00pm. This is an essential role – supporting both the House Manager with the influx of guest check-ins at the end of the day, as well as the numerous volunteers who come in to prepare dinner and perform music for the guests. Even though the lobby can get very busy during this time, Ingrid is known for her unshakable warmth and compassion toward everyone who walks through the front doors. Her fellow volunteers admire "her ongoing commitment to providing high-level and caring front desk support to guests of the House. Ingrid goes above and beyond to help new front desk volunteers on both the rules and the spirit of the House. She showed limitless patience with both the volunteer and guests during these trainings."
Ewan Toscano & Bruce Dunn
Ewan and his job aid, Bruce, have been volunteering at Family House since 2018. This dynamic duo has two different roles at Family House. On Mondays, they sort and bag donated toiletries to be placed in guest rooms; a task incredibly supportive of our housekeeping staff who clean rooms each week. On Thursdays they work tirelessly to unload dishwashers and clean the kitchen after the lunch rush. Often you'll find them eating lunch together in the dining room before their shift begins, always eager to visit and share a warm smile or hug with all guests, staff and other volunteers they see. As their fellow volunteers say, "Ewan and Bruce are hard-working and dedicated, always very pleasant to everyone. I am always so cheered seeing them work together and taking their tasks so seriously. This duo makes all of us be better people because of who they are."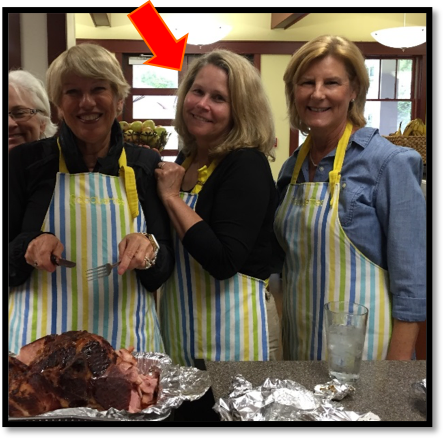 Julie Vozella
Julie Vozella has been volunteering at Family House since it opened in 2008, as meal coordinator extraordinaire for The Racquettes. This incredible meal team comes to prepare delicious food for Family House guests on the second Monday of every month. Their dedication, as the house and meal program continues to grow, is a testament to Julie's leadership and commitment to the Family House mission. Her fellow volunteers say "She organizes our monthly dinners so that the rest of us can get our assignments, relax and focus on enjoying serving the guests. She never complains and selflessly enjoys her volunteering." It's no surprise that Julie, her Racquettes, and their amazing meals were selected to star in the Family House "How to Make a Meal at Family House" video that is sent to all new meal teams. Check it out!