Guest Spotlight - Bear Edmisten and Tina Riley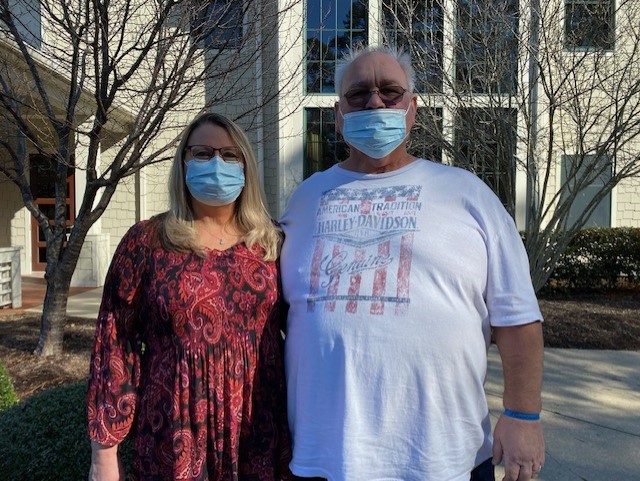 Bear Edmisten and Tina Riley
"I want everyone to know what a blessing this place (SECU Family House) is." This is one of the first things Bear Edmisten shared with us during a recent chat with him and his fiancé, Tina Riley. Staying at our hospitality house for several weeks while he received treatment at UNC Hospital for mouth cancer, this retired deputy from Carthage, North Carolina exuded gratefulness – grateful for the excellent medical care he was receiving. Grateful to have Tina at his side. Grateful for a welcoming place to return to each day after radiation and chemotherapy treatments.
It was only a few years ago that a routine visit to his dentist for a "bad tooth" turned into a referral to UNC Chapel Hill's dental school. A biopsy of the area resulted in the cancer diagnosis. Surgery and consequent radiation treatments destroyed the cancer. Then, three years later, while visiting Tina in Arkansas, Bear's mouth began to swell up, so he went to urgent care and was put on antibiotics. When the infected area erupted, Bear then saw Jeffrey Blumberg, an ear, nose and throat doctor at UNC Hospitals who specializes in endocrine surgery, salivary gland tumors, cutaneous malignancy, and otolaryngology.
Because Bear's jawbone was deteriorating and the cancer had spread to his lymph nodes, he received more chemotherapy and radiation treatments. During this ordeal, Tina has been a constant at his side. Having initially proposed to her nearly two years ago, they are now looking forward to getting married sometime this summer and working on a farm in Tennessee, surrounded by many animals.
Asked what gets him through each day, Bear said that he stays positive. Tina and Bear also shared that the volunteers and meals at Family House have been a blessing. "You meet people here, see them in the hospital and then you see them back here."
After getting to know Bear and Tina, it's evident that love conquers all and, in their case, it's conquering cancer, too.