Guest Spotlight: Michael and Sylvia Latil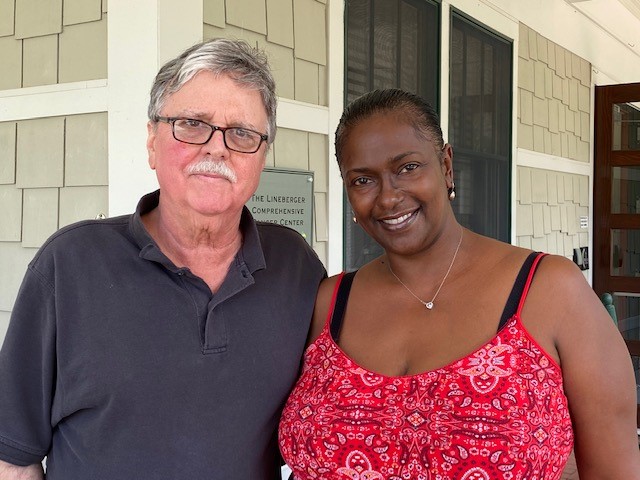 Family House guests Michael and Sylvia Latil live in Aberdeen, North Carolina – a town in Moore County that's known for its longleaf pines, renowned golf courses, railroads, artists, and historians. This past March, Michael was diagnosed with human papillomavirus (HPV) positive throat cancer after his dentist noticed a lump near his throat during a routine visit. More tests showed that he had a malignant tumor in his tonsil and lymph node, so he was sent to UNC Hospitals for a second opinion and possible surgery.
An ear, nose, and throat specialist at UNC, Dr. Samip Patel, determined that Michael's tumor was too large for surgery, so in early May, the Latils checked into Family House so that Michael could receive radiation and chemotherapy five days a week for six weeks.
What struck us about Michael and Sylvia was how they approached Michael's cancer; having gone through other health issues, they are determined to remain positive and to "do the right thing and listen to a power greater than themselves."
Michael and Sylvia were originally planning on going home each weekend, but they decided not to since they feel so comfortable at Family House. "People are wonderful here. Everything is so clean, and Sylvia enjoys cooking in the kitchen," Michael shared. Sylvia tells us that staying at Family House "lets me know that there are people in the world who care about others. I have much gratitude for this place. You feel like you are at home. I feel safe here."
HPV-positive throat cancer usually responds well to treatment; the survival rate is 85 to 90 percent five years after diagnosis (healthline.com). With the odds on his side and the constant support of his loving wife, Sylvia, we are confident that this retired commercial photographer will beat cancer and enjoy life to the fullest for many, many years to come.