Guest Spotlight: Overcoming Unexpected Twists in Life
On a recent summer evening, Jenna was traveling home after a visit with friends. All of a sudden she found herself in a bad car accident that left her with severe injuries. Soon after the police arrived at the scene, she was airlifted to UNC Health for critical medical care.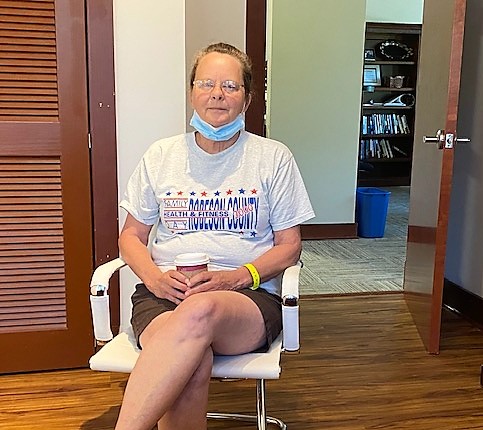 The next day, Jenna's mom, Kathy Mears, arrived at the hospital from their home in Lumberton, North Carolina, to be by her side. Having sustained injuries to her neck, arm, ribs, spine, and pelvis, Jenna has been under the excellent medical care of Dr. Arielle Perez and Dr. Chase Cox. After several surgeries and sessions with the physical therapist, Jenna was transferred to the UNC Hospitals Hillsborough Campus for rehabilitation.
While Jenna has been receiving world-class care, Kathy has stayed as a guest at Family House. Coming downstairs for the first of two cups of coffee each morning, she gives us an update on how Jenna is doing before making the 25-minute drive to the Hillsborough campus. Kathy spends the majority of each day with Jenna, helping her when needed and speaking with the medical staff before heading back to her "home away from home," Family House.
During her stay, Kathy has been a model guest. She's taken the initiative to help us where it's been needed: assisting newly arrived guests, being interviewed and photographed for our annual Impact Report, and making lifelong friends. She shares with us, "we're all in the same boat. We're here because we have a loved one who is in the hospital. One day when I came back to Family House, I was physically, emotionally and spiritually exhausted, yet everyone I came in contact with here said words to me that I needed so badly to hear."
Jenna has a long road to recovery and yet Kathy says she feels very "blessed." Blessed that her beloved daughter is making progress. Blessed that she has supportive family and friends. Blessed that she has a safe place to return to each night where newfound friends, staff and volunteers nurture and sustain her through this unexpected twist in life.