Guest Spotlight: Staying Positive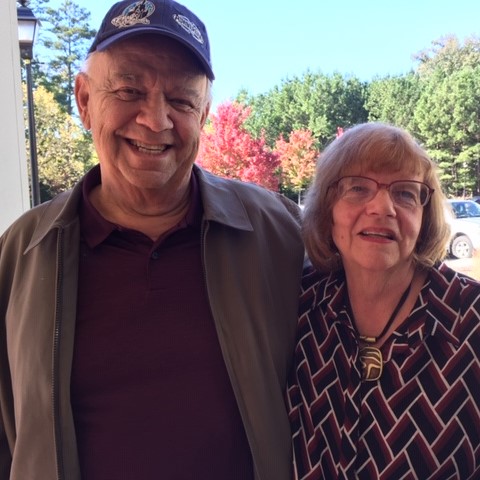 Every few months, one of the most cheerful guests to walk through our doors returns. Kathy Plummer, along with her husband, Michael, make the 90 minute drive from Fayetteville, North Carolina to Chapel Hill so that Michael can receive treatment for acute myeloid leukemia (AML) at UNC Hospitals. They're a couple who possess a truly optimistic outlook on life. Retired for 13 years and married for 46 years, the Plummers are joined at the hip, supporting each other through life's ups and downs, always with a positive attitude, no matter how unwell Michael is.
During their stays at Family House, the Plummers feel like they're amongst family. Kathy shares, "you get to know people. There is so much love, prayer and good thoughts here. You meet people you won't forget." They also enjoy their conversations with the other guests. Recently, Michael spoke with a guest who, like his brother, had undergone a double lung transplant. Sadly, Michael's brother didn't make it, yet he found a measure of comfort knowing that someone else did.
Like with so many guests who stay at Family House, both Kathy and Michael feel that you become part of a larger family when you stay here. "Everyone is so kind and caring. When you're here, it's the closest thing to being at home," according to Kathy. For Michael, staying here is like "being in a lodge with a big family."
The Plummers are also not remiss in expressing their gratitude for the multiple of professionals at UNC Hospitals that have also been by their side the past several months. They include Michael's oncologist, Dr. Joshua Zeidner, Melissa Madsen, clinical trial nurse practitioner, and Erica Moore, registered nurse.
It has been said that no two days are the same at Family House, yet the one thing that does remain the same is the constant flow of guests like the Plummers who quickly become part of our growing family.