HNN Grants Family House CHH Status
We're honored to announce that in June 2020 the Healthcare Hospitality Network (HHN) has awarded SECU Family House at UNC Hospitals with Certified Hospitality House (CHH) status.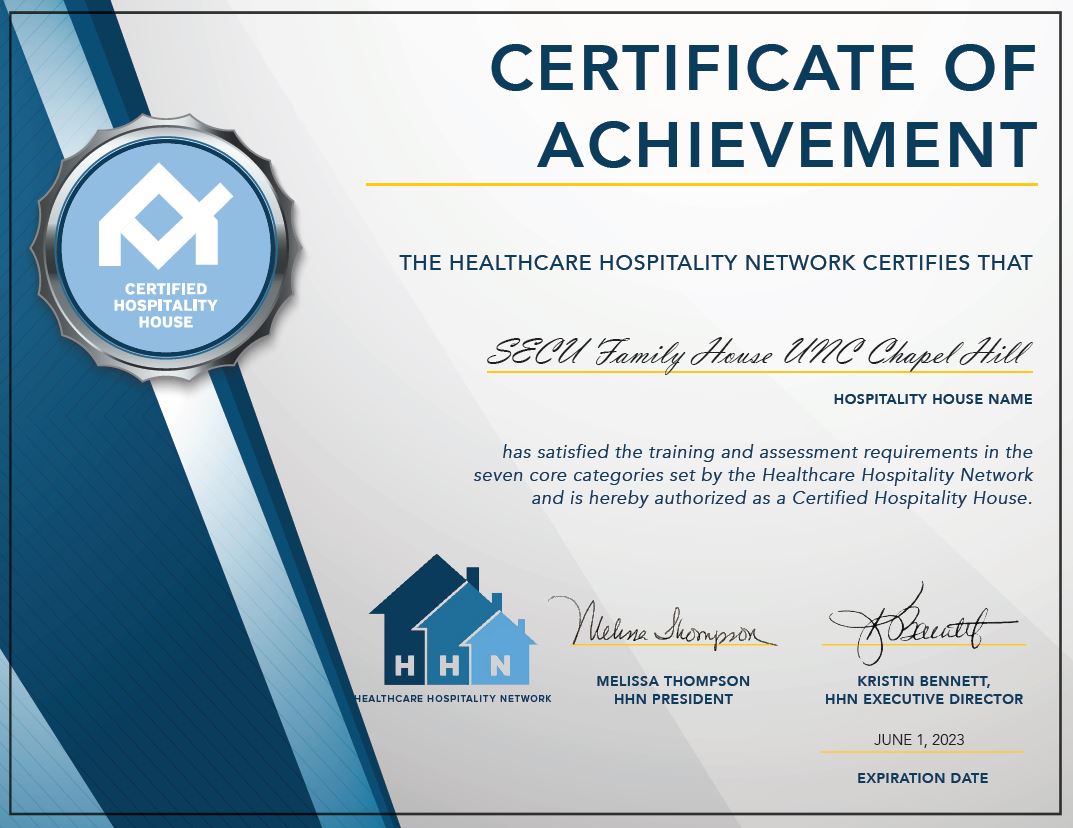 Since 1981, HHN has been representing the important work of hospitality houses as they serve patients and families. HHN provides the only national certification program for these professionals, providing access to over 60 valuable online educational courses and live educational events specifically tailored to the healthcare hospitality profession.
CHH status distinguishes organizations who demonstrate proficiency in seven core areas: operations, facility management, guest relations, nonprofit management, human resources, internal improvement, and emergency management. Certified houses adhere to educational criteria, dependent on house size, fulfilling each competency criteria annually through continuing education requirements.
"As one of the growing number of members named a Certified Hospitality House in 2020, SECU Family House at UNC Hospitals has distinguished themselves as exceptional in the hospitality community," said Kristin Bennett, Executive Director of the Healthcare Hospitality Network. "Family House demonstrates top-notch professionalism in their daily operations and are setting new standards for hospitality houses of all types, serving patients and families in need across the country."
HHN has eliminated the hassle, personal expense, and inconvenience of being certified for over 70 individuals through a whole-house approach to quality and standards. The CHH program is a win for not only the individual professional, but also the houses that employ them, the patients and families they serve, and the communities they enhance.