Keeping the Construction Site Clean & Safe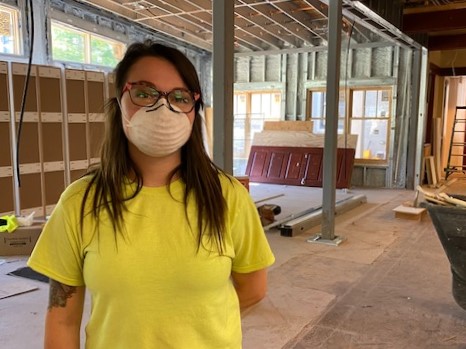 While Family House has been temporarily closed to guests due to prevent a potential outbreak of COVID-19, there has been a bustle of activity at the House. Significant progress is being made on the building expansion that will add 35 guest rooms. The kitchen/dining room renovation started early last month. Friends and former guests regularly check in with us, wanting to know how we're doing and all hoping that our doors will safely re-open before too long.
During this time, a myriad of workers (construction workers and staff) are literally behind the scenes at Family House each day, working tirelessly on a number of significant tasks. One of them, Miranda Williams, is someone we considered part of our family even before the coronavirus outbreak. A carpenter's helper working for J.D. Beam, she arrives to Family House early, puts on her hard hat and assists where she's needed most: helping with erosion control, keeping the site cleared of debris and grime, covering up lose dirt, assisting with demolition, framing, and more.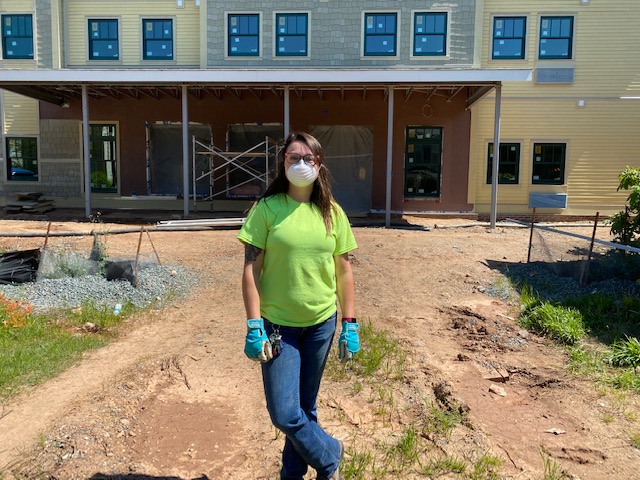 With all the work she does on site each day, Miranda shares that her primary job is to keep the construction site safe–safe for the construction workers, safe for the guests and skeletal staff by keeping the dust levels down, regularly sanitizing the ladders and light switches and making sure the ventilation system is always working. According to Miranda, "We make a strong effort to keep the house as clean as possible. I'm paying attention to what's going on around me." Side note: J.D. Beam installed a hand sink on the side of the construction site so workers have a place to wash their hands regularly. Miranda says it's used all the time.
Heroes come in all shapes and forms and certainly during the pandemic, there are many. For us, it's the behind-the-scenes human like Miranda who is our unsung hero. She ensures that everyone who comes to Family House is and feels safe, day after day. On behalf of the guests, volunteers and staff, we thank Miranda with all of our hearts.