Volunteer Spotlight: Connie Zhang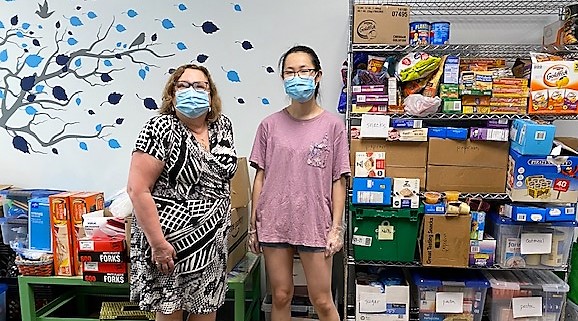 Connie (right) with Family House staff member Michele Flynn
We're so grateful that despite the ongoing global pandemic, there are still more than 20 dedicated volunteers who have chosen to come in each week to help us handle a myriad of tasks.They fold mounds of laundry. They organize the kitchen. They help at the Front Desk. They pick up fresh produce and bread at Trader Joe's. And then are the ten to fifteen folks who drop off donations of hearty dinners, homemade desserts, and kitchen necessities each week to comfort the families staying here. This is truly amazing, especially having to navigate safety protocols.
One such regular volunteer is Connie Zhang. Introduced to SECU Family House four years ago by Carol George, one of our long-time Front Desk volunteers before the pandemic hit, Connie has been coming in each week to help where she's needed: folding laundry, tidying the kitchen, organizing kitchen supplies, and more. Asked what she liked most about volunteering here, Connie shares that she enjoys "meeting new people and being able to help out in the community." We have truly enjoyed getting to know her, too!
Connie's taking a break now from volunteering here on a regular basis because she's now a freshman at NCSU majoring in Engineering. We look forward to seeing Connie again and appreciate her so much for all her help at Family House during her formative high school years.