Volunteer Spotlight: Delta Sigma Theta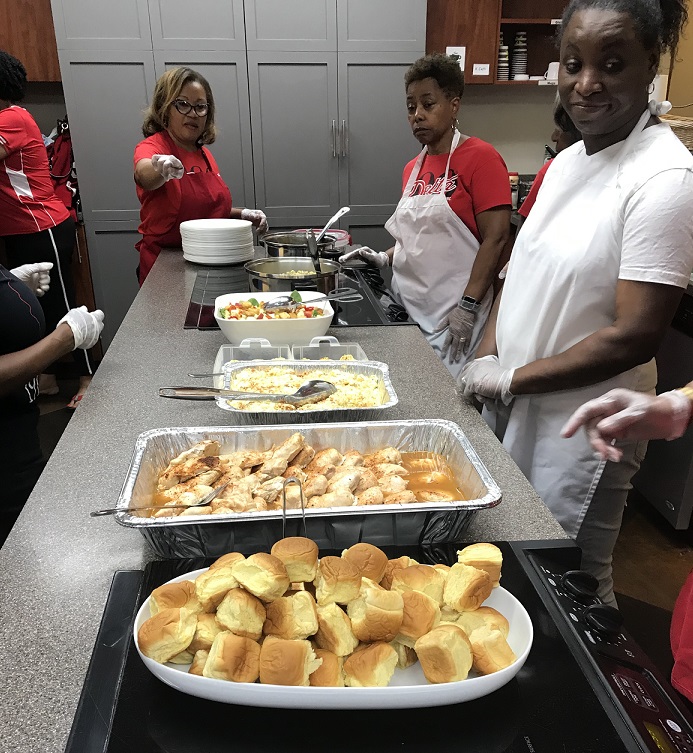 On a recent fall evening, a group of ladies from the Chapel Hill/Carrboro Chapter of Delta Sigma Theta Sorority, Inc. gathered in our kitchen to prepare a savory and nutritious meal for our guests. Baked chicken, potato salad, green beans, succotash, deviled eggs, rolls, tea, and dessert were served to the delight of our guests. When dinner was done, our guests were treated to several rounds of Bingo, prizes and all, with these energetic and enthusiastic women.
Founded in 1913, Delta Sigma Theta is a private, not-for-profit organization whose purpose is to "provide assistance and support through established programs in local communities throughout the world." This year the Chapel Hill chapter is celebrating 40 years of bringing service projects to Orange and Chatham counties. In addition to providing meals, hosting game nights, blood drives, food drives, providing scholarships to local, young African American women, the sorority also hosts financial literacy workshops and getting out the vote phone banks. We're so grateful and thankful that they've chosen to be a part of our amazing and growing volunteer family!