Volunteer Spotlight: Helping Hands & Multiple Hats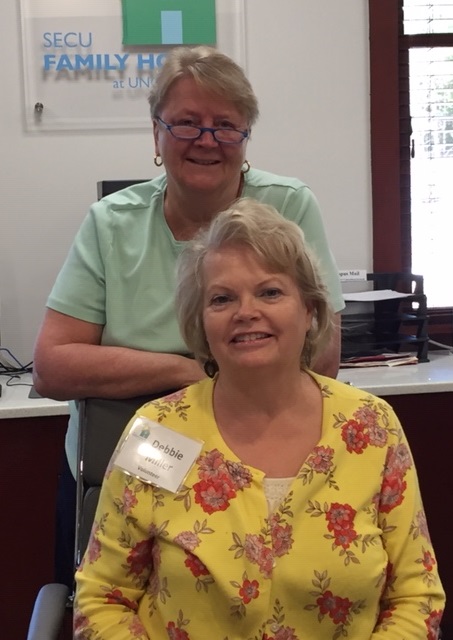 We love our volunteers! Thanks to them, Family House runs smoothly every day of the year. Volunteers are truly the heart of our home, assuming a wide range of tasks with enthusiasm and talent.
Two of our wonderful volunteers, Debbie Miller and Angie Hinchcliff, currently assist at the Front Desk. Debbie is one of Family House's first volunteers, having started just after we opened our doors in 2008. Born in Canada, Debbie moved around the world with her family before settling in Chapel Hill in 1984.
Angie joined our volunteer team more recently. Having relocated to Chapel Hill two years ago from Connecticut with her husband, this former realtor has chosen to dedicate her retirement years doing the work that's most meaningful for her.
While their main volunteerism happens behind the Front Desk, like with many of our skilled volunteers, both Debbie and Angie have also taken on several other volunteer roles, on- and off-site. The other hats they wear include folding laundry, assisting at nonprofit fairs, helping at our fundraisers, assisting meal providers, and giving tours of the House.
Asked what they like about volunteering at Family House, Debbie shares, "I like being of service. This place is so unique and distinctive. I'm impressed how it takes a village to run the House."
Angie has similar feelings, telling us, "I like meeting new people and helping the guests. I've never come across an organization like this. The service that Family House provides is amazing."
Not only do all of our volunteers give major gifts of their time and talent, they also serve as stewards of our mission to provide a "safe, nurturing, affordable home for patients and their loved ones." We can't thank all of our volunteers enough!