Volunteer Spotlight: Living His Best Life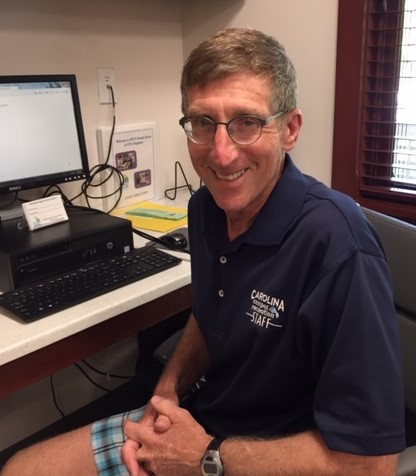 Marty Pomerantz has volunteered at Family House for the past seven years. A jack of all trades, this retired UNC Director of Campus Recreation volunteers mainly at the front desk, answering the phone, entering referrals, and helping our guests in countless ways. Marty also assists at our annual spring and fall fundraisers, chips in when a meal is needed, and serves as sous-chef with our weekly baker, Donna Fehrenbach.
For Marty, volunteering gives him an opportunity to give back. Several years ago he stayed in a hospitality house in Little Rock, Arkansas while his wife underwent treatment for multiple myeloma. Sadly, she did not make it, but that experience left an indelible mark on him for life.
In addition to giving back to the Chapel Hill community he's lived in for the past 35 years, Marty shares, "it's a wonderful feeling to know that I'm making an impact on people's lives when they're going through the worst." An ardent sports enthusiast who also volunteers at Finley Golf Course as a starter in exchange for free rounds of golf, he's living his best life, showing compassion for those in need and getting to play his much loved golf game. We thank Marty for all that does for everyone at Family House.