Our 2019 Year-in-Review
What a year for SECU Family House at UNC Hospitals! We proudly welcomed more than 2,114 guests and shared their stories. Our volunteers found countless ways to give back as always, and our staff worked hard day in and day out to operate Family House, including lovely new staff members Vimbai, Aimee, and Nestor. Construction on our 36 room expansion has nearly turned our dream into a reality. And at the center of it all is YOU, our valued supporter. We truly thank you for your unwavering support of Family House. 2019 really has been a banner year!
January began what would become the final year of our Capital Campaign for expansion. In anticipation of our future needs, we spent this month fully transitioning to new databases for both our guest check-ins and our volunteer registration.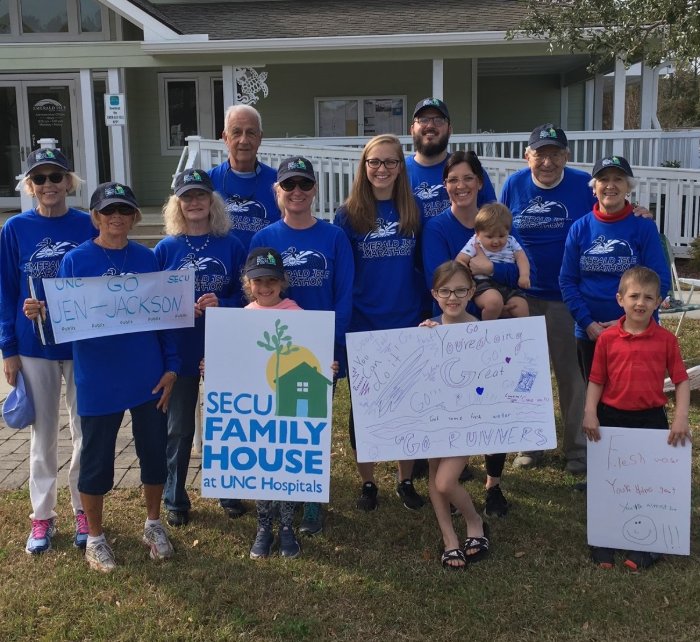 February and March reminded us of the fierce supporters we have both in Chapel Hill and across North Carolina. Our young professionals group Homegrown Hope hosted a fundraiser here in town to benefit our cause, and our friends on the coast donated the proceeds of the Emerald Isle Marathon to Family House (left). We launched our Finishing Touch Campaign and watched as over 100 new gifts from across the state and country poured in to help us close our capital campaign.
Hosting our annual Remembrance Service in April for guests and volunteers who have passed away reminded us of those we loved deeply. We also broke ground on our dining room expansion which will allow us to accommodate guests from all 75 rooms once construction has finished. Later that month, we hosted our 11th annual golf tournament and barbeque, raising enough to cover the operational cost of running the House for over a month!
Our gratitude flowed over the next several months. In May, we honored our volunteers at our annual Volunteer Appreciation Breakfast. June was a landmark month as we excitedly closed our capital campaign, officially raising $9.6 million to expand our House to 75 rooms.
In July, we looked to the future as we added three new members to our stellar Board of Directors. The House was abuzz in August as we competed for a State Farm Neighborhood Assist grant, mobilizing our community. While we narrowly missed making the Top 40, we were honored to receive a grant from our local State Farm Agency in recognition of our efforts.
September welcomed in our annual Gala, our largest fundraiser of the year and most successful to date. Later in the month, our generous friends at SECU Information Services once again hosted a golf tournament to raise money for the House. By the end of the month, the foundation for the expansion was poured, leading to the new building being "damped in" by the end of the year (right).
We proudly announced Bridging the Gap, our annual campaign for $1 million, in October. More than $700,000 of this amount has already been raised and we still have six months to go.
November and December ushered in holiday cheer. Beautiful decor adorned the House, and generous meal teams provided dozens of delicious meals for guests, including on Thanksgiving, Christmas Eve, Christmas Day, New Year's Eve, and New Year's Day. Giving Tuesday offered another way for supporters to give back at Family House, and Santa's Cookie Workshop allowed us to welcome in young families to celebrate the joy of the holidays.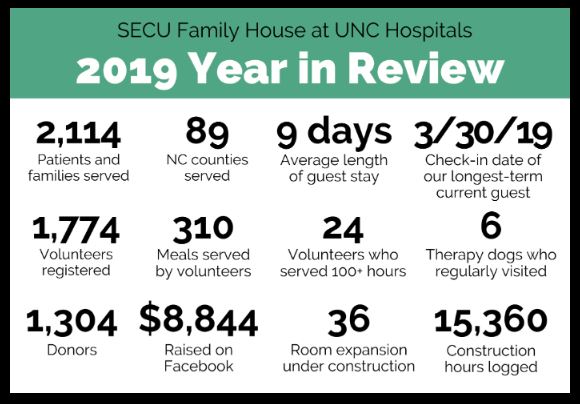 And through it all, our day-to-day operations thrived. While the timeline of our year is enlightening, so much can be said about the work we've done with just a few numbers:
Thank you for all you've done to make this year at Family House happen. We are honored to count YOU as one of our supporters.